If you are American What do you think of Gordon Brown ?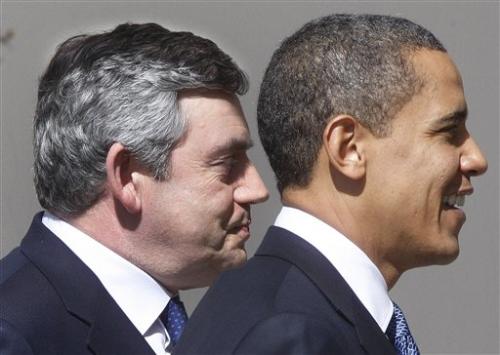 March 5, 2009 3:25pm CST
The press in the UK is raving about how America loves Gordon Brown the PM of the UK. Strange as not more than 2 weeks ago Mr Brown was saying the credit crisis started in the US. Funnily enough he has not repeated this in his visit to the US. Did you know he said that? Do you love him? Do you love the US/UK relationship?
6 responses


•
5 Mar 09
but he is going to solve the planets economy, so why not listen to him?

so the question was 'do you like him?' according to our media he has been lauded by the US media so i guess you saw the speech. he blamed you guys for starting the recession and now he has forgotten he said it. so is Obama the way forward? one thing he has got right...we need to work together. No?

• Lancaster, New Hampshire
5 Mar 09
well yeh, we need to work together, but our mentary systems and regulations are off limits and belong to each of our respective soveiergn countries. As to me liking him? not if he is calling for international controls over soviergn nations. Other than that, I really have no opinion, I think your media is lieing through it's teeth to you, or at least exagerating.

• United States
5 Mar 09
I haven't really heard any opinions from other people here on Gordon Brown. Tony Blair was very popular here in the U.S. so Brown largely inherited people's general feelings towards Blair and the UK. I don't think anyone would be offended by his remark about the credit crisis. Most people in America believe it started here as well, so he's just restating their own beliefs.

• United States
5 Mar 09
Actually, the credit crises probably did begin here. Seems like everything does (except the Beatles, of course). Seriously, I don't know a lot about Gordon Brown. I sort of liked Tony blair and I think for the most part Americans probably indentified more with him than with Gordon Borwn. The US/UK relationship is definitely something we cherish. You are the mother country and our language, laws and thinking all reflect our English antecedents. Inspite of that little skirmish back in 1776, we've managed to forge a pretty powerful friendship which I don't see weakening in any of our lifetimes regardless of who heads the governments of our countries. We're like blood relatives who kinda like being in the same family.

•
5 Mar 09
i agree that Blair most certainly was more charasmatic. almost like out 'JFK'! i totally think we need the bond but was disgusted with Thatchers kiss arsing of reagan and was furious that Bush was caught on camera condescending Blair and Blair went along with it. i so wanted Blair to tell him to go take a flying fu(k!!! I do believe that outside of government, the people of our 2 respective countrys have a healthy respect for one another. especially the respective forces. the US/UK fighting forces are to be proud off...even if put to ill use....but that's another discussion!


• United States
6 Mar 09
I am American and have been in the UK since November 7 2008 so I get a dose of Gordon Brown on a daily basis either on TV news or in the paper and I think the man is an ignorant total waste of space. If an election was called right now he would be gone and he knows it. The Bank of England is printing money like mad to try and boost the economy. Of course Gordon Brown would try to blame America for the current problems - he was the Chancellor during the Blair years and was solely responsible for the budgets and it is his spend, spend, spend budgets that are mainly responsible for the dire straits England is in right now. Let him try blaming the US - the people here in the UK don't swallow his garbage like he wants to thnk they do.

• United States
6 Mar 09
In order: Yes. No, I don't. And meh, it USED to be cute. Now...I dunno.