Fellow Chefs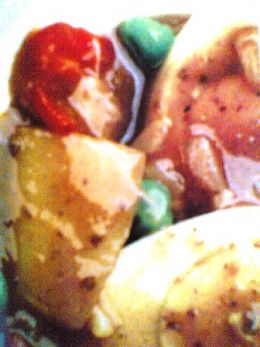 Philippines
March 5, 2009 6:54pm CST
Hello Fellow Chefs!I have my newly experimented recipe. Please do add comments on this: Egg Caldereta serves: 8 preparation time: 10 cooking time: 20 minutes only Ingredients: 2 pieces hard-cooked eggs 2 tablespoons oil 1 tablespoon garlic, chopped 2 Maggi Tomato and Meat Cube 1 cup pineapple juice 2 cups potatoes, cubed 1/2 cup red bell pepper, diced 1/4 cup green peas 1 85-gram can liver spread 1/2 teaspoon salt My Own Procedure: 1. Remove shells of eggs and slice in half, lengthwise, then set aside. 2. Heat oil, saute garlic, and onion until limp. Add Maggi Tomato and Meat Cube, and pineapple juice. Bring to a boil. 3. Add potatoes and simmer for five minutes or until potatoes are fork tender. 4. Gently stir in sliced eggs, bell peppers, and green peas. Simmer for another three minutes and add liver spread to thicken the mixture. Season with salt to taste and cook for two minutes more. Serve hot. There you have it my friend... Happy Cooking:) Now, tell me what's your newly invented recipe. Any remarks on this is highly appreciated. I'll give credit on that. Thanks and have a nice day!
2 responses

• Canada
14 Mar 09
I am surprise your recipe is still here. Recipes are against myLot guidelines so even I am taking a chance responding to it. DON'T Post jokes, recipes, etc. as discussions. This is a form of abuse and all recipes and jokes will be deleted if they are started as a discussion. http://www.mylot.com/o/guidelines.aspx

• Philippines
14 Mar 09
Okay thanks for the info. Sorry I wasn't able to read their guidelines and I haven't been using this account for quite sometime. Thanks for responding!

• Philippines
6 Mar 09
Wow!!!great recipe and it is economical. I hope to cook this one in my idle time. And i love cooking but because of my hectic schedule it deprive me of doing that. But hopefully this weekend I can and one thing for sure I'll be cooking this recipe of yours. Thanks for sharingg...

• Philippines
6 Mar 09
Yes it is! Thank you for your response my dear janiceancajas... Have a nice day and Happy MyLotting :)