But for the Grace of God go I..........no this is not a religious discussion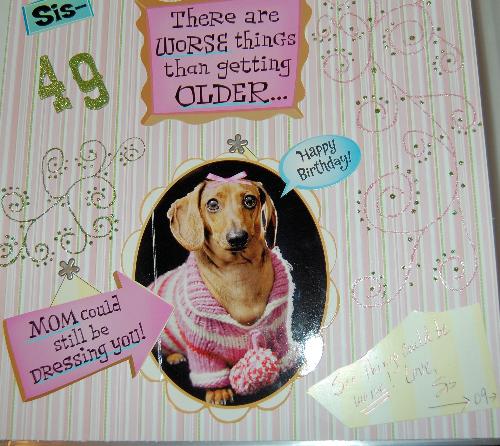 United States
March 6, 2009 10:15am CST
I've been seeing a lot of discussions lately about 'whoa is me'. Let's face it everyone has some type of problem, struggle, or issues in their life, and a lot on a daily basis. But, guess what, there is always someone who is worse off than we are. I learned that saying many years ago....But for the grace of God go I. I don't care how bad things seem, or how low we get, it could always be worse. I was also taught a long time ago that most times you have to 'pull yourself up by your own bootstraps'. There are several issues that I am dealing with right now (some of which some of you know about). I could throw myself a pity party, but guess what? I'm not going to. One: because who would want to come? and Two: what would it accomplish?Who else does something constuctive to get themselves out of the 'whoa is me' mood and move on with life? Just take a look around you, things aren't always as bad as they may seem, and there is always a new approach to problems, sometimes you just have to get reallly creative.
8 responses

• United States
6 Mar 09
do you mean "whoa" like stop to a horse or "woe" as in pity? it seems it could be taken two ways, just trying to understand how you are meaning it...

• United States
6 Mar 09
A little bit of both lol, but thanks for seeing the mistake, I really wish we could go back and edit after posting sometimes. Woe is correct, and I didn't catch what I had done til after the posting.

• United States
8 Mar 09

[b]I
so agree
with you, so thanks first for taking my teasing in the lighthearted way I meant it, & second--though really it
should
be first!-- is because your positivity is so welcome! As you'd noted, a lot of people, for whatever reason, seem down these days, & who can blame them, looking at the economy & the government takeover of things? BUT...& this is the important thing, sitting around "mitching & boaning"

has
never fixed anything
, & whatever problems we have, as a country
are
fixable. I think the sad, frightened people have forgotten that in their panic. And the first thing one must do to fix
anything
is to be cheerful, even when things are bad, so you'll be able to keep your wits about you & find the
right
way to fix
whatever's
broke! So....SMILE! Are you aware that science has discovered that when a person smiles, those little engines of Feel-Good-Ism --endorphins-- are released into one's brain, & that even if we didn't have anything
to
smile about, pretty soon we start to match our faces in our minds? And it also takes more muscles to frown than to smile. Ever hear of that? What, you want
more
wrinkles?? So...
keep
smiling. And soon you'll relax enough to let go of the panic &
THINK
. And granted, our nation's problems are going to need a LOT of thinking going on, from a LOT of people! Just my tuppence. Maggiepie[/b]

• United States
8 Mar 09
Your welcome, hope the rest of your day goes well. Don't you just love technology lol

• United States
7 Mar 09
I will be totally honest here. I have many times had the "woe is me" and the "why me" in my life. Those are the times in my life that I had no control of and it all was out of my hands. I think you know all that I am talking about here Tami, you were there for me during some of it and for that I thank you from the bottom of my heart.

• United States
7 Mar 09
I do know what you are talking about, and it can be overwhelming when you are not in control of the situation. But you had plenty around to keep you going. I remember thinking what an amazing person you are when you could stand there in my house and make jokes about the situation........and in your case there was a light at the end of the long tunnel, and for that I am thankful.

• United States
7 Mar 09
I could go on but then we'd both need a kleenex lol

• Canada
7 Mar 09
Hi palonghorn, I really have to applaud you for your decision here, and to say that I agree with you. You are right in saying that there is always a new approach and too many people just give up when things get rough. I don't know what issues your are dealing with but I know that you are looking at it in the best possible way. We all need to be positive and expect that things will work out for the best while doing everything within our power to make it happen. As you say when we look around us there are always those who are worse off than we are. Being grateful for what we have puts us in the right frame of mind. Blessings.

• United States
7 Mar 09
Thank you, there have been times that I wanted to just throw my hands up and give into my problems, but I also know that being the strong type of person I am, as soon as I start to give in, I step back up to the plate. I have done some of my best thinking and figuring things out while cleaning house! lol One of my coping mechanisms is cleaning. lol

• United States
6 Mar 09
I have to agree 100% with you. There is always someone out there who is alot worse off than i believe i am. I try to keep the negative thoughts at bay but sometimes they sneak in and i just have to keep telling myself that there is someone who has it worse than me. I try to keep in mind that things could be alot worse.

• United States
6 Mar 09
Usually when I step back and take a look at it, sometimes it's almost humerous as to how bad I think I have it.

• Canada
6 Mar 09
Exactly, I always say," There's nothing so bad that it couldn't be worse!" so get up in the morning, give your head a shake, and count your blessings instead of dwelling on your misfortunes. I believe with all my Heart that there are no accidents, no mishaps and no such thing as Luck. We choose our lives, and if my load is heavier than my neighbor's, it's because I chose a heavier load. I'm doing it for the sake of bettering myself.

• United States
6 Mar 09
I like your outlook. And I agree with you, it can always be worse and we should always count our blessings


• United States
6 Mar 09
I agree no one cares about my problems but me, sometimes when things are bad I just go out to the mall or to the thrift shops and look around. Doing something like that takes the problems off my mind for a bit and sometimes gives me time to think silently to my self as I'm driving along. I know that a lot of my problem I make my self sometimes and my children have their own problems to face. So they dont' need my crying on them. A pity party, now who would want to come to a party and watch someone sit aside and feel sorry for theirselves, but then maybe they would think this is a place for me to go and feel sorry too. Heck I dont' want to see people sadder than me. And you right there is a heck of a lot of people out there that is worse off than me. The ones losing their jobs and homes.

• United States
7 Mar 09
I have to agree with you. Negative thought forms do no one any good. They simply manifest more negativity in your life. Have you ever read Eckhart Tolle's work? He speaks about how our ego is so programmed to freak out on a daily basis. I think that along with that we're almost socially programmed to be "woe is me" or "poor little me" that we have to really work hard to change that perception.