guess which? who?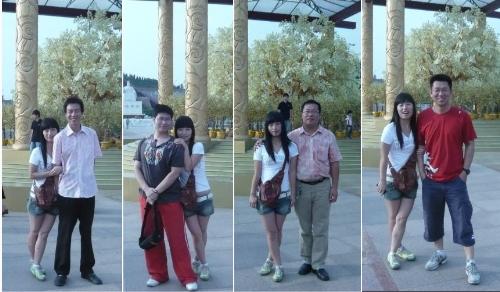 China
March 8, 2009 8:32pm CST
in our photo,,,,there is a photo: four guys was taken photo with a girl,,,,, from the gril's expression and action,,please guess,which one is pursuiting the gril,,this is a kidding things,,it's funny....... I want to laugh at someone!!this is 08's summer,we went to a interest in China,,,,,,,what gaga ga!!!this photo's name is: guess!
2 responses

• China
9 Mar 09
this picture is under my discussion...you can refresh you page,,,,may be the net-connection is ill..



• Canada
9 Mar 09
Because in all the other pictures the girl is happy and is touching the other guys. But in #3 she is not so happy and is not touching the man. I took it to mean that she is not happy that this man is pursuing her. Or that the other guys are her brothers or friends and she is at ease with them but with #3 she is in a more submissive role since he mighht be her future husband.

• China
9 Mar 09
big uncle ,you a people of intelligence,,,thanks for your inference,,,,O(n_n)O~