give me a name of this orchid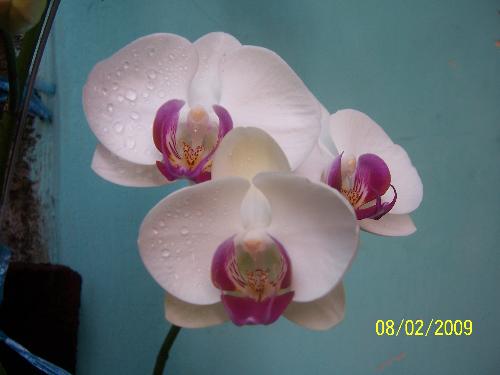 Indonesia
2 responses

• United States
9 Mar 09
I don't know the variety, as there are many hundreds of different cultivars in the species, but this is a Phalaenopsis orchid. I'm not sure if this is the information you were looking for, but I do hope I've helped some. It's very lovely.

• United States
9 Mar 09
No, I've just had a few as houseplants that I've enjoyed. I know there are many different varieties, a lot of which look alike to me. I'm sorry I couldn't be more help. You might try doing a search engine search for "orchid forum" and see if you can post your photo on one of the boards where the experts hang out. Perhaps someone will recognize it. It's really lovely.

• Indonesia
21 Mar 09
Hi there siZidni, i just browsing orchids, and i found great blog http://allaboutorchid.blogspot.com/2008_12_01_archive.html and i think your orchid is Phalaenopsis type of moon orchid.Woah ! those orchid are beautiful and grace! there are some unique variety of orchids at that blog too. Happy posting siZidni, oxoxo'dian from bali island.

• Indonesia
22 Mar 09
About the painting, not yet, i was gonna make one for my mom, she ask me to paint Moon Orchid, but not yet. Yes, i should start now. Thank you for remind me.