Are you dragging yourself to work or..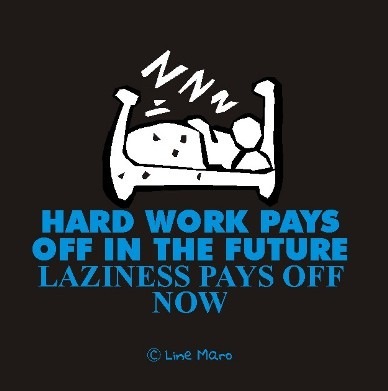 Philippines
6 responses

• India
9 Mar 09
Sometimes I jump out of the bed to go to work. Those are the times when I am to design or implement my original idea and that is a great motivation. But there are other times, when I have to do some routine work and it gets boring at times. Oh and I happen to have a lazy feet almost on every mondays. I have to really drag my feet to work and I would be sulking all the way to office and then I get alright. And money is always a motivation lol Have a nice day!

• Philippines
9 Mar 09
Heheh! nice to read your post. I was like that too. Happy Mylotting!


• Philippines
9 Mar 09
awww, we'll i guess there's one thing needed to get you more motivated.



• Philippines
9 Mar 09

I am sure you are like most Mylotters here who hate their job.

• Singapore
16 Mar 09
Let's go from Macro to micro eh? Well, one of the things that I look forward to when going to work is the bonus at the end of the year. A time when I get to spend some of those money on luxuries (what I considered them to be anyways) to reward myself for the good work I have done for the whole year. The other thing that I look forward to when working is the salary at the end of the month. A time where I actually am rich for that few days that the money sits in the bank (until the first of the wave of bills that comes deducting from it anyways

). The other is the weekends that I tell myself I am getting at the end of the week. One where I can sleep in and then wake up to the comforts of my home! Then it is the end of the day I look forward to. One where I go home to a family who is waiting for me to start dinner. Where a piping hot meal greets me when I change out of my work clothes. At the beginning of the day when I put on my work clothes, I look forward to the first break. That would be lunch. One where I get to spend some quality time with my wife over a meal that would vary from day to day. That is how I get myself through the day. I won't exactly say it is dragging myself to work. But there are days like that. And there are also days where I look forward to go to work simply because of the things that I get to do.


• United States
9 Mar 09
I alwasys drag myself to work. I wished that I did not have to work anymore. but I owe money and I need money to survive.

• United States
9 Mar 09
today after the time change it was like walking around with my feet in mud. It was snowing it was pitch black no motivation what so ever. It is not like i hate my job, it more as i do not see why i am doing it other than money. I always feel you never become rich woring for someone else. today i am dragging.