It's a crazy world we live in!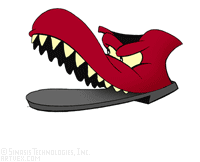 Australia
March 12, 2009 9:24pm CST
We have all heard of the shoe hurling journalist who threw his shoes at George Bush during a press conference. If you are lived under a rock and haven't heard here is the link to the video http://www.youtube.com/watch?v=9uIj0YvDBKE (
NOT REFERRAL LINK
) I heard today that the journalist involved got three years jail for his little tantrum. At the same time here in Perth Western Australia the courts just found a father and his two sons not guilty for attacking a police officer from behind during a brawl outside a pub. This has led to the policeman suffering a broken jaw and now has permanent paralysis down one side of his body. The Crown Prosecutor told the jury,"
He
(one of the attackers)
ran at the constable from behind, jumped into the air, and struck the rear of the Constable's head extremely hard, an action described as a full head butt, "
Okay we have three years for throwing shoes and nothing for permanently injuring a man. What say you?

3 responses

• United States
14 Mar 09
I think the son who attacked the police man and the others involved should have gotten something more out of this. After all it is an officer of the law. The man who got 3 years for throwing shoes at the former president, got that because it was political.

• Australia
14 Mar 09
I know it sounds so silly; in jail for throwing shoes, when some are getting away with seriously injuring someone or worse!

• United States
14 Mar 09
so true. But, it was considered an embarrassment to the government, and I am sure disrespectful. Bush smiled and ducked. LOL

• Australia
13 Mar 09
I was in Perth when that trial was in progress, and I think there was more to what happened than what was reported. I didn't like the look of any of the acused, but if I remember correctly, one of the police wittnesses had only a vague memory of what happened. I had a problem trying to work out just who was the aggressor, the police on the accused. As for the journalist who threw the shoes, I'm convinced he got the three years for missing his target. A direct hit would have got him off! LOL.

• United States
13 Mar 09
Paula- Indeed what a crazy world we live in huh. That is insane that they would allow people like that off who have caused a man to loose his quality of life. Yet, we'll throw someone in jail for tossing a shoe? It didn't even hit the President. We have a law here in MN that says all cars must move over to the next available lane if a cop has someone pulled over. You'd think it common sense, right? Nope. They have the law in place because an officier was hit and paralyzed by someone who whizzed past him in a car right next to the car he had pulled over. Well, my thoughts are with the officier. Namaste-Anora

• Australia
13 Mar 09
I heard on the news this evening that the result of this trial has caused a few resignations amongst police officers which is a shame. Appreciate the response!