I love eating hamburgers... how about you?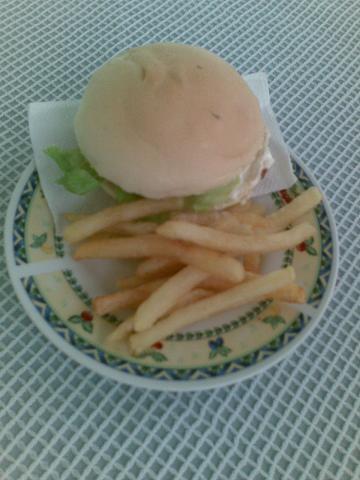 Philippines
March 13, 2009 8:50am CST
Hello fellow mylotters! I just got home from school and I was not able to eat any dinner. So I just bought a hamburger from a cafeteria near our house and ate it. That was already my dinner. I bought it cheap but it tasted real good. Plus they gave me free fries. Cool huh? I just love eating hamburgers. Do you like eating hamburgers too?
9 responses

•
13 Mar 09
yes i just love hamburgers. whenever i am out once to eat hamburger i eat it fully. i just love frenfries going with them. especially i like chicken burgers. i am mad for them and love to taste it in diffrent cafe's but i never eat them much as they are really harmfull compared to normal diet. i try to be a bit conservative with them :)

• United States
13 Mar 09
My husband actually has a rating system for take out hamburgers. Diners usually have the best hamburgers and steak places are usually close in taste. Of course the hamburgers I make at home top his list every time!

• India
20 May 09
My too, I can gorge on hamburgers though at my age, that's not one bit healthy and it does create problems for my stomach later on.

• Indonesia
20 May 09
my husband and children like hamburgers. we often make themselves at home. every holiday we make hamburgers. I very nostalgic time that. I will not repeat again to make hamburger together. My children and I now prefer to buy humburger, so that we do not remember the wonderful times we make hamburger together. Therefore we so sad, every eating hamburgers.


• United States
14 Mar 09
I to enjoy a hamburger on occasion just not all the time.



• India
13 Mar 09
Yes i too love eating hamburgers

.I eat my hamburger from macdonalds.Here we have an option of happy meal.We get a hamburger,french fries and a coke along with a free toy.When i go to a supermarket.I eat at macdonalds.I like to eat my burger with sweet tomato sauce.