Look Mean Bad Reputation .

United States
March 13, 2009 6:27pm CST
I have raised many different breads of dogs. Some breads of dog just get a bad reputation because of there looks. Take the Rottweiler they are not the biggest bread of dog but they are considered one of the meanest breads of dogs. I think it is because of there markings they just look mean.The Pit Bull Dog has earned there bad reputation. with all the attacks on humans.do you think the Rottweiler getting the bad end of the stick? I do.
10 responses

• United States
13 Mar 09
Well, one of the reasons that Rotties have their bad - and very undeserved reputation - is because they're a favorite of dog fighters. They're large, they're tough, they can be trained to be mean, and they have wide jaws that lock when they bite down. For a period of years, they were the favorite of illegal dog fighters, and because of that the US at least ended up with a rash of violent, aggressive rottweilers who had been trained for fighting. They're also considered a 'junk yard dog', dogs that have been trained to be violent towards people as guard dogs for property. Usually businesses where people aren't around, so the animals are left alone for long periods of time and not well socialized. It's terribly ironic, since the breed was first developed to watch over children and pull carts.

• United States
14 Mar 09
Dogs aren't born mean. Its people that make them so. I've seen rottweilers that run and play gently with toddlers. I've also witnessed a doberman playing with my son when he was 5. And remember the movie Cujo? Horrible movie. I owned a St. Bernard some years back and he was such a gentle giant. My german shepherd I just lost was also a very loving dog, although protective of me. People need to realize that dogs will behave based upon how they are treated. Just look at the Michael Vick case - most of those dogs ended up being adopted into loving homes, even though they had been mistreated.

• Canada
15 Mar 09
I doubt that those dogs which have been bred and trained to fight would make a good family pet. What is your source of this information?. I have seen a program where this was tried and it was not successful. I understoon when these fighting dogs are confiscated they are just put down, they are too damaged to be good for much else.

• United States
15 Mar 09
I'm sorry to say so, but in this instance you are wrong. There was an hour long show on Animal Planet this last week called "Animal Witness - the Michael Vick Story." They had a couple of dogs that were too agressive that had to be put down, and some went to rescue centers. But others were deemed suitable and were adopted into loving families. The people working with the dogs said thats its a shame more shelters don't have the time or funds to work with the dogs they confiscate, rather than putting them down.

• United States
17 Mar 09
It takes time to rehabilitate an animal that has been abused and or trained to be a fighting animal. Two and a half years ago a friend aquired a six month old shepard mix. He was one of a litter of pups that the owners had not found a home for and couldn't keep any longer. He must have been abused. He had some bad scars on his face and was very hand shy and you couldn't walk close to him as he feared feet and would snap and bite. It took months of loving care and attention to get him to realize hands were not going to hurt him. It was more then a year before he realized not every foot that came near was a danger. Now that he is three years old those of us who are closest to him and his owner can tussel with him and even tap our feet and play footsie with him and he gets so delighted that he wriggles just like a puppy. He has learned to give a warning growl or short bark to let people know he doesn't like something and no longer bites but will put his mouth on your wrist or foot and give it a squeeze if you don't listen to the warning. If I were in a different situation and didn't already have the max number of pets I would love to foster a rescue animal giving it the love and attention it needed to become someones companion and loving pet. BTW the dog was a good fit for his owner as he suffers from PTSD too so they understand each other.

• Canada
23 Mar 09
I owned 2 Rotties a male and a female. They where reallly good dogs. The only thing I can say about a bad dog is it usually has a bad owner behind it. If you train your dog you generally do not have problems. My 2 where security trained and could stop them from getting into trouble..

• United States
26 Mar 09
I had my female trained and she was a good dog and she loved children.


• Canada
15 Mar 09
When you breed a dog you breed into it characteristics. The original dog apparently is based on the wolf so that is what you are building on. The wolf characteristics show up in the many hunting dogs because wolves hunt, herding dogs because wolves chase and corral animals when they hunt, social and friendly with their pack which is you and your family, territorial which is why they protect your house and there others characteristics that made dogs useful throughout human history. Most dogs used to be working dogs bred to a specific or multi-use task. It is only in recent history that dogs are now just ornamental dogs, not working dogs. You never entirely breed out the basic characteristics of that wolf. If you put a number of dogs together and run a deer or rabbit past them they will all chase it. When the dog wants to sleep with you on your bed it is mirroring its pack instinct to be top dog, or close to the top dog (which incidentally should be you). People today think that dog is just a little white Christian person trapped in a furry coat. It is just an animal people, loveable as they can be, admittedly displaying characteristics humans find adorable. The problem with pit bulls is they have been selectively bread to be fighters. If a Shitzu bites your ankle you get a nasty nip. If a pit bull bites your ankle you can lose a chunk of flesh. What part of people getting killed by dogs do people not understand.

• Australia
14 Mar 09
i don't really know many dog breeds and i don't raised many dogs in the past... in fact, the only dog breed that i had ever raised is only the pomenarian... that's it... and i think that is the only breed that i love... anyway, i know that pitt bulls had gotten the bad reputation because they attack people often and very dangerous... but i don't know about rottweiler... may be the other users here can help you to give more info than me... take care and have a nice day...

• Romania
14 Mar 09
it is true, sometimes the apparence may scare the people. it is just like human beeings, if you have a scary face, people tind to look at you in a different way. but i think dogs are how we train us. maybe if a rottweiler can be a gentle dog, if he is trained to be good.

•
14 Mar 09
I can always tell the if a dog is friendly, regardless of the breed. I've met quite a few rottweilers who were very friendly and liked to be stroked a lot. It is as others suggest, down to bad owners choosing the more "hardcore" dogs and then treating them badly. All dogs will stick up for their owners, especially those with the greatest ability to do so. Different breeds definately have a temperament

• Canada
14 Mar 09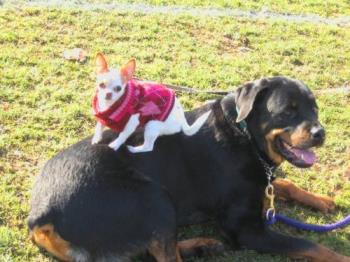 I do think that Rottweiler is getting the bad end of the stick in general but on the other hand, if people were more careful in breeding quality lines, we all may not have the problem that most face regarding this breed of dog. I find the problem lies in irresponsible breeding as well as improper dog handling. I met a Rottweiler the other day and he was one of the most well tempered dogs I have ever met. Docile and gentle. Kind to my Yorkie also. There was not an aggressive bone in that dogs body. (see below) He was bred in Germany and had exceptional lineage. Not to mention he was very well trained. His pal was a tiny Chihuahua. So Cute. Over all I do not find that Rottweilers look mean at all but they certainly do get a bad rapp. Sometimes for good reason but not by fault of the breed itself.

• United States
13 Mar 09
I like all sorts of dogs but i do think some have a bad reputation. I think little dogs actually tend to bite alittle more than big dogs because they have to prove they are tough. I like dogs but am still alittle bit scared of them. My dog is a dauschund beagle or terrier combination.