frappuchino choice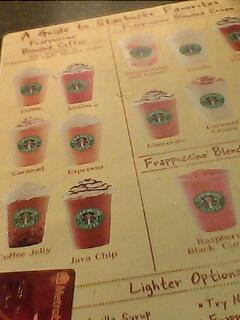 Philippines
March 13, 2009 11:03pm CST
its summer time again! a cold refreshing drink available at starbucks would be the frappe or ice coffee.. whats your favorite cold bevaregas from starbucks or from other cafe? mine would be chocolate cream chip frappe in venti size please!! hehe yum yum yum!! i just wish that they will lower their price so that we can avail of their yummy drinks!! dont you think so?
7 responses

• Philippines
16 Mar 09
Java Chip or Coffee Jelly from Starbucks are always good to have. However, I'm hoping they'd have new flavors soon so that we'd be able to try them. I don't know what other coffee shop I can try which has the same quality as Starbucks but has a different variety of drinks. Thanks for the response on my discussion!

• Philippines
16 Mar 09
welcome

do you like their christmas flavors.. the praline mocha, dark cherry mocha and toffee nut latte? for me i also lave it speciallt the praline mocha.. it suits my taste buds

thanks for the response..


• Philippines
16 Mar 09
oh well! i think we have to wait til the next Christmas for this treat!! yum yum yum!!


• Philippines
14 Mar 09
I love the Green Tea Frappucino from Starbucks

I have been in Starbucks Singapore before...the price of their coffee there when being converted to our money is just the same price


• Philippines
14 Mar 09

i havent try that one.. my usual order is coffee jelly or chocolate cream only. i think i should try green tea in my next payday.. hehehe thanks



• Philippines
28 Jun 09
I love Choco Java Chip for frappe!

• Philippines
31 Mar 09
My frapuccino choice at Starbucks would be Java Chip.. yum yum...also I love Toffee Nut during the Christmas season...I also like ordering my drink in venti..haha...I have a question, is the Strawberry frappe available as coffee based?

• Philippines
7 May 09
nope.. strawberry frappe is in cream based.. i also like to order in venti specially for frappe, but when people people at the office saw you with super tall cup of starbucks, they all thinks that your a rich person.. hehehe

• Philippines
30 Mar 09
cookies and cream is the most that i like! yum! yum!

• United States
17 Mar 09
At starbucks I get the venti Frapocino mocho with whipped cream and chocolate and carmel drizzle mmm I love it. I only go to star bucks to get that they make it so good. Yes the price on the drinks are high.

• Philippines
17 Mar 09
chocolate chip frappe addict! hehe and iced carmel macchiato

love it hehe! i tried the green tea already- approved for that also

it's healthy too! (of all the teas-go green! hehe... it's obvious why? LOL just kidding hehe) thanks!;) happy myLotting!

Godabless!0=)