what will you do if you smell something bad on the person beside you?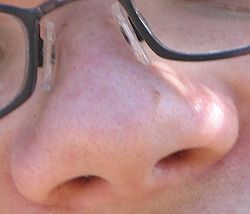 South Korea
6 responses

• Philippines
14 Mar 09
Normally i just take a hankie and then cover my nose because if i do what you do in an elevator and people would look because you knelt down , you might offend the person next to you. It is not good to offend other people, just be considerate enough that some people do have body odors due to the food they intake. I tell you this, in India you will smell much more but don't let that take you down. Just act normal to them, cover your nose. At first it is really hard for me, in a bus surrounded by you know what i mean, the smell is like an atomic bomb, i really put my green balm and spread some of it on my nose or sometimes i take white flower medicated oil, put it on my nose and then cover my nose with a hankie.Happy Mylotting!

• South Korea
14 Mar 09
yes,its not good to offend people..but the elevator was so small and we are squezzing..i forgot to bring my handkie..

• Malaysia
14 Mar 09
If it was me and the floor which I am going to is not high or just about to reach, I would quickly press for the next level and leave the elevator and use the stairs. But if it's still many floors to go, I think I would say excuse be to certain people and move from my position to another.

• South Korea
14 Mar 09
yes your right too..i wanted to take the stairs but i have my toddler with me

• India
14 Mar 09
It is always better to keep a scented hanky with you. Use this hanky when you come across this kind of bad smell instances. It happens in daily life.

• South Korea
14 Mar 09
oh yes..your right..at that time i forgot to bring mine thanks for responding

• United States
25 Mar 09
[i]Hi marketing, ohhh..this is tough, I will for sure leave the elevator and wait transfer! I don't care if I will be late but if no chance, I will cover my nose so hard and will not take a breath often![/i]




• India
23 Mar 09
I can understand the situation you were in.If I were in your place i would turn to the opposite direction.People would see it indifferently too.But we can't help other than it.Next time,be careful,not to enter into a crowded elevator.Cheers!

• Philippines
19 Mar 09
Every time I encountered this scene, I will avoid that person actually and never got nearer to him or her again. Or sometimes if the circumstances prompt me to be near that person I have to held my breath for seconds and make an excuse and breath deeper outside..hahahha!