Nascar


United States
November 10, 2006 12:17pm CST
Do you like racing? Do you like nascar? If you do, tell me who your favorite driver is. As you can see from the picture, my favorite is Dale Earnhardt Sr.. Don't care too much about Jr. though. I believe he got where he is because his name. The name is a legend so they're not gonna let him go.What do you think?
10 responses

• Beaver Dam, Wisconsin
10 Nov 06
I used to. But lately I can't stand the younger drivers on the field. They spend more time picking fights and whining than actually racing.

• United States
10 Nov 06
By young, you mean Jimmy Johnson, Matt Kenseth, young? Because they are actually winning a good bit of races. And besides, I think it's cool to see a dispute every now and then. Who is your favorite driver?

• United States
11 Nov 06
NASCAR wouldn't be where it was without disputes...does anyone remember what actually put NASCAR on the map to begin with? 1979 Daytona 500...A huge snowstorm had snowed in almost a quarter of the US and it was the first race televised flag to flag. Donnie Allison and Cale Yarborough wrecked on turn 4 of the final lap while battling for the lead, and had a heck of a scrap in the infield, which eventually involved Donnie's brother Bobby...three of the greatest legends of our sporrt.

• United States
12 Nov 06
I totally agree, you need a dispute here and there. Nothing too serious though

• United States
10 Nov 06
Of course,i like nascar. my sons favorite drivers are sr and jr. he has everything i can think of. there are so many things out there it is endless. i myself like jamie mcmurray. and kevin harvick. a bunch of them.

• United States
10 Nov 06
I know what you mean. I got a couple wall in my house covered with cars. All numbers,colors,and sizes.

• United States
11 Nov 06
I've been collecting NASCAR Die-Casts since the mid90's but I do have some from the early 90's as well...last time I valued my collection it was worth well over 7grand

• United States
12 Nov 06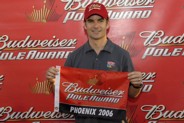 I've got quite a good bit myself but I couldn't even estimate how much it's worth right now. I've got about 4 walls covered in my house right now of all different cars,drivers,sizes,dolls,etc.


• United States
10 Nov 06
Me too, but who's your driver?

• Netherlands
10 Nov 06
nice question. look at my avatar and name.lol

• United States
10 Nov 06
Ok, But who is your favorite?

• United States
11 Nov 06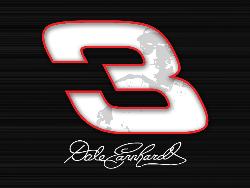 Of course, judging by my avatar you can tell who I am most fond of, in fact bot my mom and her sis are huge fans too, and one is 79 and the other is 80. My avatar was taken at Dover in pit stall #1. For her 80th bithday my aunt got to ride in that car. Jr wasn't driving, but it was one of his retired cars. Jr has the potential to be just like Sr. but there are 2 things holding him back:1) NASCAR let Sr. get away with everything back in his day, because Sr put a lot of butts in the seats at a time when NASCAR was going through its strongest period of growth. Jr started out in Busch driving just like his dad, and NASCAR put him in check early on. So he really can't get away with a lot of the things that made his dad so great. 2) Jr is holdng himself back. He really wants to have a seperate identity, and wants to et ahead on his own merits, and not because he is Dale Sr's kid. So he doesn't drive nearly as agressively as he is capable of to try to prove he has his own style that can be equally as effective. Also I don't know how many times this year I've listened to Jr on trackpass and sen him running the fastest laps on the track, yet he's still complaining every second about how tight or loose the car is. Tony Jr. beingthe great crew cheif he is does what the driver wants but makes the car worse instead of better. There needs to be a bit better communication on that team. They have computers on the pit box that are linked directly to real-time scoring. They need to tell him that he's the fastest car on the track, and maybe he won't complain so much about how poorly the car handles, and accept the fact that although it's hard to drive, its still faster than the rest. But I still havefaith in him that he will soon enough mature into one of the greats. Never as big as his father though. I don't know of anyone active in the sporrt today that could be even considered to be in Dale Sr's leaugue.

• United States
12 Nov 06

You nailed it as far as Gordon, but for Jr. well I can't see him holding back. I believe if he's got it in him, it would be out there and his own style would show then,but you can't blame that on Sr.I agree that times are different than before and it may be harder than it was for Sr. but like I said, I can't see him holding back. Everybody wants to win and if he could, he would. Now, it may as well be the car, who knows, it's gotta be one or the other. If it's not the car then it has to be the driver. I do have faith in him and I do hope he can pull through and be on top eventually but I just don't see that no time soon. I really hope he can get on top and carry out that name if you know what I mean.


• United States
10 Nov 06
I agree with your prediction about Kenseth and Johnson and possibly Kahne.

• United States
11 Nov 06
But keep in mind Jr has had success at pheonix as well...it's one of his best tracks.

• United States
12 Nov 06
We'll just have to see what happens

• Canada
10 Nov 06
Good topic! Me, I was a Bill Elliott fan for years. Well, I still am a fan but since he's stepped back to a limited schedule the past couple of years I've kind of grown to like the new driver of the #9 car - Kasey Kahne! Some of my other favourites include Kenseth, Martin, both Labonte brothers. Ol' Earnhardt did add something to the races that's for sure. Love or love to hate I think explains it best!

• United States
10 Nov 06
I like Kasey Kahne as well. Between him, Jimmy Johnson and Matt Kenseth, they been pretty much taking over. Gordon is still pretty good but I don't like him. I think he's gay. And what happened to Tony Stewart? He used to be up there too. He's been slacking off big time. And like I said with Jr., I think he is only where he is because of the name his dad set up for him if ya know what I mean.

• Canada
10 Nov 06
Stewart's been pretty strong as of late actually. Had he had 16 more points and made the chase I think he'd be leading the overall standing right now. But he didn't so he isn't!:) Jeff Gordon gaay? Well he just got married to a model so ... I know what you're saying about Gordon though. I couldn't stand him for years but I've actually changed my opinion of him a lot over the past 3 or 4 years. No question the man can DRIVE! It's hard to deny that!

• United States
10 Nov 06
i agree he can drive and if he just got married to a model then she needs to straighten him up. I don't know if it's his appearance or what it is but maybe she can fix it and boy did he get lucky with that one, huh? I remember when I first started watching the races, Tony Stewart was almost always leading the races but lately he hasn't even really been in the top ten. I am sticking with Earnhardt Sr. for a while although Gordon getting up there too so I might be changing my thinking soon enough. Earnhardt Sr. will always be a legend though. Too bad I can't say the same about Jr..

• United States
12 Nov 06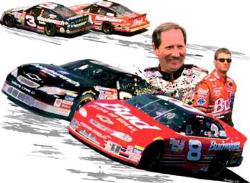 yes me and my husband both like nascar we watch it together everytime it's on our favorites are Dale Earnhardt Sr & Jr

• United States
12 Nov 06
Same here, not too much on Jr. though


• United States
12 Nov 06
Here's a pic for you since you like Gordon. As you can see I'm all for Earnhardt Sr..

• United States
12 Nov 06
My hubby and i both LOVE nascar. He likes Mark Martin I like Tony stewert. We have gone to alot of the Pocono and Dover races beings we live in pa they are the two closest track. We have a Daytona party every year at our house. We were both HUGE fans of Dale Sr. I kinda feel the same way about JR that you do but my hubby likes him.