Happy Friday.....what are your plans for the weekend?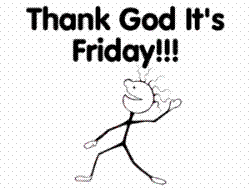 United States
November 10, 2006 12:25pm CST
8 responses

• United States
10 Nov 06

I'm gonna stay home and relax. I'll probably be on this computer most of the weekend while my husband plays his games on his xbox360. At least they are in the same room so we get to spend time together! lol

• United States
10 Nov 06
LOL My fiance and I do the same thing. He plays video games on his PC while I do something else on mine. He is still trying to convince me thast being in the same room counts as spending time together.

• United States
10 Nov 06
LOL my fiance is trying to convince me of the same thing...lol

• United States
10 Nov 06
UMM...WE REALLY DONT HAVE MUCH PLANS. WE ARE GOING TO SHOPPING FOR A FEW THINGS, GO TO MY MOTHER IN LAWS, GOT TO MY DADS, GOT TO A FRIENDS PLACE AND PROBABLY GO OUT TO EAT SOMEWHERE. ALSO RENT SOME MOVIES. THATS ABOUT IT!! YOU??

• India
10 Nov 06
nothing special. just stay at home and spend time with my family

• United States
10 Nov 06
Sleep! I also have to get a few things for my wedding, find a place to sell my stupid Leaf Fish, go to the Boy Scount shop for my son, and do class work.

• United States
10 Nov 06
Well, tonight I am waiting for my mother to drive into town. First thing tomorrow morning I have an appointment to get 4 new tires on my car. The Dickens Christmas Show is in my town (Myrtle Beach, Sc) so we are going to go to see that. Then Sunday is FOOTBALL!!!!!


• Pakistan
10 Nov 06
i hv to attend my friend's engagement

•
10 Nov 06
I WANT to go out, get drunk and dance my heart out. Unfortunately, my current funds won't allow that, so instead i'll probably do ... something much more boring.