Sweet and sour chicken is the best

United States
8 responses

• Philippines
15 Dec 11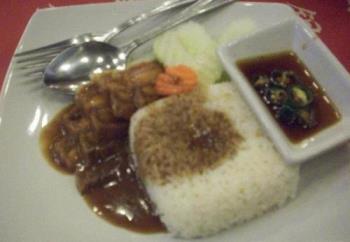 I have a friend who loves sweet and sour spare ribs a lot and would order this particular dish every time we go out to dine. I think sweet and sour taste is really enticing in whatever dish. I love the Chinese style of cooking sweet and sour taste as well. They have secrets in making it really flavorful whether the dish maybe chicken, fish, or any meat. This is the reason why I love Chinese food, they really are so tempting to me.



• Germany
8 Jun 09
Hi indigo. I like sweet and sour chicken and fish. Well, i cannot say sweet and sour chicken is the best for me, as a Chinese, i have tasted many types of Chinese dishes, and every one has its own unique and taste. I just found the recipe of sweet and sour chicken from the cooking forum today, i would like to try it tomorrow as my husband likes sweet and sour chicken. I hope i can make it!

Oh ya, another dish that i like is mongu pork.

It's really delicious!!!! I have got the recipe too, hope that i will try it one day as at the moment i do not have all the ingredients needed. All right, have a nice day and happy mylotting.



• United States
15 Mar 09
I love chinese food. I don't know if you ever tried sweet and sour meatballs, it is good too and it was my favorite as a kid. Then it became sweet and sour fish...yummy! I tried chicken and it is good all the same but I guess a lot of fried food goes well with sweet and sour sauce. You can get them in bottles at the grocery stores.

• United States
15 Mar 09
I also love sweet and sour chicken! It is definitely my favorite Chinese dish. I have actually been eating it quite a bit lately, cause my husband and I keep getting in the mood for it! I am going to have to cut back though, cause I always eat too much.

It's so yummy, though!

Sweet and sour chicken with white rice on the side has become one of my favorite meals.

• United States
15 Mar 09
sweet and sour chicken is my most favorite chinese dish. Sometimes I will use the sauce to pour over my rice

• United States
15 Mar 09
sweet and sour chicken is good but aweet and sour whole fish is even better. that's one of my favorite dishes. but you can't get it in any chinese restaurant though. usually you have to go to china town for it. another dish that i can't get enough of is roast duck.