Have You Ever Had A J.B. Roll in Sushi? It Is Sooooooo Good!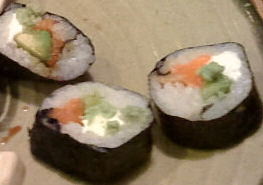 United States
March 16, 2009 11:11am CST
Have you ever eaten a
J.B. Roll
as a Sushi Roll before? It is so good! I thought all this time that it was tuna that I was eating but I was wrong. It is salmon!

I had always thought that salmon was very fishy tasting and smelling but when I eat this sushi it hardly tastes like fish at all. A
J.B. Roll
stands for "
Japanese Bagel
" roll. A
J.B. Roll
is salmon, cream cheese, and avocado rolled in white rice and wrapped in seaweed. I love it with a little wasabi on top and some pickled ginger. Then I dip it in soy sauce. Yum!

I eat probably at least a dozen of them when I go out to my local sushi restaurant. I also visit the Hibachi grill in the back of the restaurant. But I would have to say my favorite is the
J.B. Roll
!
Have a great day and happy myLotting!!!

3 responses

• United States
17 Mar 09
Oh my ICK. I have tried to eat Sushi and I can't. I almost got sick at a really pricy resteraunt at that. I drank my tea fast good thing it wasn't hot any more. You have a nice day. My son loves Sushi. Your friend onlydia

• United States
19 Mar 09
Yes it was the taste. Not the fact that is was raw fish. The taste as I don't really care for cooked fish. And the rice ick. The stuff on the outside of it. everything about it I didn't like. I still take him when I can afford to. I still don't get it but hey if he likes it that is ok. The least they could do is have a salad to eat. But no not even letuse for the Mom. You have a good day now. Your friend onlydia


• United States
17 Mar 09
Yes, it is raw. I try not to think about it when I am eating it. It is supposed to be good for you though. I don't eat it that often though.

And also, I really do hate cooked salmon. Go figure! Anyways, all this time until yesterday I thought I was eating tuna, not salmon!

Thanks for your comment and have a great day!!!


• United States
17 Mar 09
Mmmmmmmmmm! Those are really tasty! I get those too when I order sushi. I never thought I would be able to eat sushi but once I tried it then I loved it!