This crazy thing called love...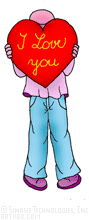 Australia
March 18, 2009 9:17pm CST
I knew it was love because I started doing stupid stuff, a lot! I would be forgetful and have so much going through my mind all at once that I didn't know if I was coming or going. I opened the outside fridge and found all the car washing stuff ...can't think who would have put it there... I poured juice in my coffee and I literally bumped into walls on a regular basis. I have always done stupid stuff when I've been in love; I put it down to temporary insanity. Do you lose your mind when you are in love? Have you ever done anything crazy for love? Do tell...
3 responses

• India
19 Mar 09
You are right Paula. Falling in love is not only wonderful it gives us a feel of the extent we can go doing stupid, crazy stuffs! And each time we excel ourselves. Isn't it funny the way we lose our sanity, do weird things, lose our composure and eventually come back to normalcy? I guess, even the coolest of people go throuh this temporary insanity. And dear, good lord that you didn't pour raw vinegar in your coffee!

How did it taste?

• Australia
19 Mar 09
I didn't drink the coffee, I realised just in time

! We've been married a while now so we are pretty much back to normal; I have no excuse for doing stupid stuff now!


• India
25 Mar 09
Trust me you can! Stupidity adds spice to life and its away to revive our boredom of course when done in limits.


• United States
19 Mar 09
I can't say that I have. Looks like you get head over heals in love. That is great. I had to chuckle with all of your mishaps.

• Australia
19 Mar 09
We've been married for 13 years so I've settled down a bit now!


• United States
19 Mar 09
Goodness you are still a newly wed, lol. Got almost 36 1/2 years in.


• Australia
20 Mar 09
I remember the butterflies! They are part of the temporary insanity too! Thanks for responding!