Stuck in the middle...never a good thing.

Malaysia
March 19, 2009 3:11am CST
Have you ever had friends that got hooked-up one drunken night and can't see eye-to-eye the next morning? Well, I'm kinda stuck in the middle with two friends of mine who had done this recently. I'm good friends to both sides and 'apparently' I have to choose a side. They both have talked to me so I heard both sides of the story. And now they want me to tell them 'who is right and who is wrong'. Don't you hate that when that happens?
2 responses

• India
19 Mar 09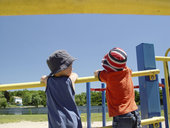 Hi, Can U think of Life,without any accident? Take the incident as accident in Life.But accidents also donot take place regularly.Remember,there is repentance(do not see eye-to-eye!),so forgive this time(with an warning!).Give Ur judgement and settle the un-easiness in relationship.Afterall they are friends! =lahiri,Kolkata,India.

• United States
19 Mar 09
Stuck between 2 friends? Sounds very stress full. Sounds like the best thing for all of you to do is have a 3 way LOL. And then you can decide which friend you like best. Seriously, I've never had this problem with friends. Its not fair to be forced to pick one over another when it comes to dealing with people that you care about. I'm pretty sure its gotta be hard trying to be neutral when both people are complaining to you about the other. The best advice I could give would be to tell both people that you care about both of them, and what ever problems they have is going to have to stay between themselves. It may take some time before or if they ever patch things up with each other.

• Malaysia
19 Mar 09
Hmm, I like the sound of a three way. Hehehe. Best advice all day ;) What if I do agree with one and not the other? Should I say what I feel? Because I tried telling them to solve it among themselves but they think I'm abandoning them and not being a good friend. They are really nice people but they can be silly when it comes to things like this. Plus, they both say its my fault cause I gave them too much to drink, which I say did not because they 'conveniently' forgot that they asked me to get more drinks. Well at least they agreed on something huh? Hehehe