Toilet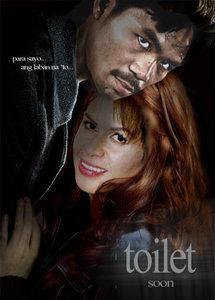 Philippines
March 19, 2009 11:56pm CST
first, there was Takipsilim. Then, there's TOILET. ahahaha! no offense to Manny Pacquio fans, just this this week. i got this joke about Manny. about him seeing the new sensational movie "Toilet". he was asking his wife Jinky if she has watched it. since Jinky is unaware but bragged that, of course, she knew what Toilet is and it's for the use of if you want to pee or have a poo-poo. then Manny insisted, that's it's not a restroom. it's a movie - a "vampire-vampire one". it's really funny. then last night, while i was browsing in Multiply for shoes, i came upon this site that has this picture. it was a real laughtrip that i didn't have second toughts of saving it though i didn't ask permission of the owner.
6 responses

•
20 Mar 09
What the....

That photo really makes me laugh! L0l!!!! What if Manny is a real vampire? A toilet vampire! Lol! Can you imagine that?

Waaaaaaaaaaa.....I'll just laugh! L0l! [em]lol[/em

• Philippines
21 Mar 09
lol. a toilet vampire who can go nowhere but just in the toilet. ahahaha!!!

• Philippines
22 Mar 09
[b]THAT IS DEFINITELY A LAUGH TRIP FOR EVERYONE TO ENJOY HAHA

HOPE THAT MP WON'T VIEW THIS

[/b]


• Philippines
21 Mar 09
i don't know about the movie. ahahahaha!!! i think it's never gonna happen. ahahahaha!!!

• Philippines
21 Mar 09
it's nice to start a day with a good laugh - though in this case, at the expense of Manny. sorry, Manny. lol