Do you like Christmas and New Year Party?

India
4 responses



• India
10 Nov 06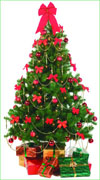 I am a Hindu, but I have many Christian friends. From childhood, I have been part of the Christmas festivities, decorating the Christmas tree, getting gifts, eating the goodies. And over the years I have only grown to like Christmas. However, I am not the party type. I would rather spend Christmas and New Year's eve with family or close friends. And while at it, we will have our own private bash :-)

• United States
10 Nov 06
For us, Christmas parties are a family thing. All the kids get to run around and play. The adults talk and catch up with distant relative that have come into town. Everyone eats and has a great time. New Years Eve parties are something my hubby and I like to do together. It's the one time a year that we actually have the time to set aside to have couple time.