Can you spot the error in the picture posted with this post?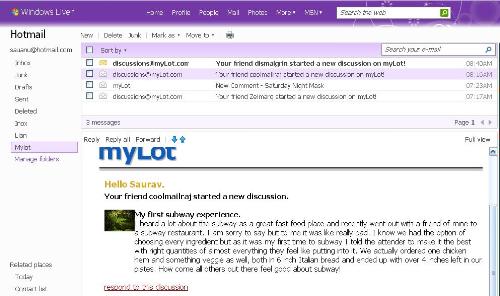 India
March 20, 2009 10:28pm CST
This is an unusual thing with this picture posted. It is part of a screen shot taken for hotmail account. It is giving you a pic of my inbox only. There is an unusual thing in this picture. If you want to spot that then go on and find that. If you are not that patient then... Scroll down and find it by reading the lines. There is an unread message in the "Mylot" folder but the folder pan isn't showing that number with "Mylot". It should have been like "Mylot(1)" with bold letters!Sorry, if you were disappointed!
4 responses

• Malaysia
21 Mar 09
TWO (2) DIFFERENCES SPOTTED 1. Your username "sanuanu" different to your name "Saurav" 2. Your Hotmail notification subject bar displayed from "dismakrin", while your myLot inbox notification displayed "coolmailraj". DETAILS OF DIFFERENCES A. At hotmail subject notification, it displayed; Your friend dismakrin started a new discussion on myLot! B. At myLot discussion notification, it displayed; Your friend coolmailraj started a new discussion. SUBJECT OF DISCUSSION AT MYLOT "My first subway experience" I'd downloaded your photo and upload on Phlook to enlarge, then I found the differences. Thanks for providing good discussion, sanuanu. [url=http://www.phlook.com/picdisplay.aspx?picuid=321761801][img]http://www.phlook.com/PoolPics/3084/321761801Thumbnail.jpg[/img][/url]

• Malaysia
21 Mar 09
THAT DISCUSSION BELONGS TO "coolmailraj" and the link; http://www.mylot.com/w/discussions/1949091.aspx

• India
22 Mar 09
Interesting! Even I didn't pick those differences my friend. As far as my user name is concerened, the mylot has a facility where we can put our original names too. So, it is referring that original name rather than sanuanu. The other difference is an unusual one because most of the time it is same in email subject bar as well as preview pan. The other error is that I have selected mylot folder in folder pan but the folder pan isn't showing any unread message but there is an unread message available! So, three difference.

• Malaysia
22 Mar 09
Much thanks for the "BR", sanuanu; Wish you the best of luck, look and your continued life success.


• India
21 Mar 09
The picture is not that clear to spot the difference.And I dont use hotmail account and I really can't figure out any difference even if the picture was clear.

• United States
21 Mar 09
Don't see anything unusual. I don't have a hotmail account so I don't know how mylot emails are supposed to show up.