My Dog Kicks The Dirt with His HInd Legs

United States
March 22, 2009 10:53am CST
This is so funny! My dog is a chihuahua. I take him out to potty on the leash and he goes through this ritual. First he has to find the 'right' spot to pee, and then he has to hunt around for the 'right' place to do his other business. Each time he pees or poos he goes nuts kicking up his back feet to kick the dirt around. Is he leaving his scent from his feet onto the ground so he can find his place to go again, or is he leaving his scent to tell other animals that this is his turf, or his potty. Does your dog do this?
5 responses

• Canada
22 Mar 09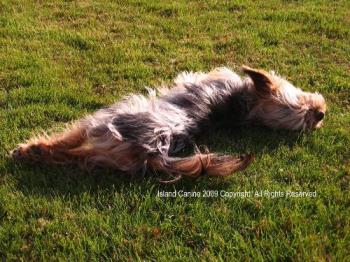 It is funny to watch, isn't it? I love it when my little dog does this because she looks happy and frisky. Although not every time she goes potty does she do this. I notice that she does it more often when she goes number #1. I had actually researched for the reason that dogs dog this and is often referred to as the Scrape Behavior. My sister told me it was because she doesn't like people to see her going potty. Lol. I didn't hold that as the main reason because to me, it didn't seem significant as all dogs go potty outside, who are house trained. It doesn't appear to me that they are bothered by anyone seeing them as they seem to be more interested in the scents surrounding the potty area. In my research I found the most reasonable explanation is that when the dog does their business and is then seen kicking up their back feet or rather scratching the ground around where they just did their business, it is to align their marking area, in the direction they have left, in a way that other dogs will find their marking of territory of dominance, easier. After all it is all about "marking" their territory most usually, rather than emptying their bladder. If you walk your dog first thing in the morning and he does his business and you keep walking, you may likely find that when he stops to sniff, possibly several times in the walk, you will notice that he pees more than just the once, right? This is about marking territory. So in a sense yes, it is about leaving his scent to tell other animals that it is his turf. Additionally, I have read several times that about the scent glands on their paws as well. With every scrape it leaves a scent characteristic that is individual to that dog, announcing their presence, often within their own pack or to other dogs that will cross their path.

• United States
22 Mar 09
My doggy does it and the dirt and grass flies. We have one part of our lawn that is all mossy.. and he will pee there and tear up the ground with his back feet. H is funny about it.. and he does look happy too. Yes, that is what I think too.. he is marking his territory, (like he has to... no one is going to take his place)..lol. I don't walk him down the street, I just walk him around my yard. I have a very big yard so I take him to walk around it.

• United States
22 Mar 09
What a pretty dog you have! I was going to leave a comment but it says we have to be friends first. I'll send you a friend request if I may?

• Canada
23 Mar 09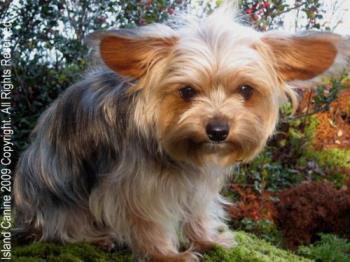 Lol, yes I have seen the dirt and grass fly as well. Meanwhile my dog is quite small, her legs appear quite strong. It is quite astonishing to watch as my dog will do her business and scratch the ground like she does, meanwhile keeping a close eye, locked on the dog passing by that is much bigger than her. Acting as if she is daring the dog to cross her newly marked path. They say the small dogs assume they are as big or bigger. So, I laugh. It is sure cute. Especially because she is small and acts so confident around the big dogs. I frequent my parents place with a large front and back yard. I still take her to the doggy parks but it is so convenient to just walk her around the yard, for sure. She hangs out while I garden too so it is nice to have her company during that time as well.


• United States
22 Mar 09
My dog does the same thing. I think it's so funny. I used to have a beagle, and he never did this. Now I have a corgi and I think it's just too funny! But, I never really knew why he did this. I know my cats used to do it with their front paws.

• United States
22 Mar 09
It's funny. I don't know if they are marking their territory or disguising the scent by removing it by throwing it out behind them.

• Cambridge, England
22 Mar 09
All dogs do this. It is said to be to cover up their dirt or to make it look as if it is not fresh so that other dogs or predators cannot track them so easily. Dogs are fairly rough and ready about it. Cats are much more careful, digging a hole first and then covering it up neatly afterwards.

• United States
22 Mar 09
My other dogs don't do this... my Chihuahua is the only one that does do it.. it's so funny to watch. I'm glad to know that this is common to dogs and cats. I do see cats do a lot of burying their waste to cover up the scent... but my dog wants to spread his around I guess.. or maybe he is spreading his scent out so it can't be found by predators. I don't know which.


• United States
22 Mar 09
Yes, that is what I thought he was doing. It is quite funny to see him do it.. he does it so forcefully and he seems to very happy when he is doing it. lol.

• United States
6 Apr 09
My husky does this even though he ends up tearing up the grass and dirt around him, it's cute and funny. LOL!!!!