what type of student are u?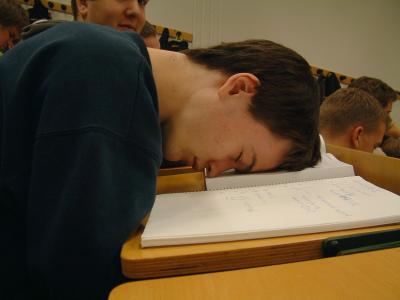 India
March 24, 2009 5:06pm CST
in u;r college or school days what type of student are u,a bright student or sleeping or lazy student or an average student. did u coperate other students at that age,for increasing their score.
8 responses

•
25 Mar 09
Sad to say, I am a very lazy student, and I also like last minute study. I always finish 1 whole year academic syllabus in 1 month or so. Actually this technique work out quite well for me even up to my A-Level. But I can no longer archieve that kind of good result in my uni any more. So, I think I am a bright but lazy student. No sure what you were trying to ask in your second sentence.

•
25 Mar 09
Why I am lazy? Because I never do any homework that is optional. I only did those which is assess or those have to summit. I have to finish the whole thing in 1 month because I know nothing the rest of the time. Like I almost fail 2 subjects in my trial exam in my school, which is before I have started my revision period. My trial for AS was like ABDD and for A2 was BBCC. But I do know how to study for exam so in the end I am able to get straight A in AS and 3A1B for the whole A Level.

•
25 Mar 09
But this studying method can only use for elementary school and high school, it did not work out for me during my first 2 years of university year. Why I don't want to study from the beginning? I am too lazy, lol. And I prefer to do some other stuff like computer game, playing instruments, internet, facebooking, reading anything but not my technical reference book etc. Basically anything that is not relevant to my study.

• Delhi, India
25 Mar 09
I was a brigt student in my school and college and I would be among the top 5 students of my class. It was a great feeling to remain in the top bracket and to get the attention of my teachers for my skills and intelligence.

• United States
26 Mar 09
Hello ank_47! When I was in college, I was just a birght student. I didn't excel in any subject and everytime we have our exams, I got good results but not very often.

• United States
28 Mar 09
hello ank sorry about my response..It's not bright student..what I mean is average.. I studied as a Bachelor of Elementary Education.

• India
24 Mar 09
I was a bright student who always did average things.I used to not prepare well for the exams which got me average marks but actually I was bright.hahaha.Its true.

• India
26 Mar 09
See being a bookworm is entirely different from having knowledge about everything.Bookworms usually dont have general knowledge.If you get a rank you are called brilliant.I was quiet capable of scoring more than 90% marks in each subject but I had no intention of studying.When I was studying in high school all were expecting a state level rank for me in the 10th Grade.All knew that I was brilliant but whts the use if you dont study?I got first class marks which you call average marks.If you had to get a rank you should have scored more than 95%. Bookworms are not always brilliant.They just know whats there in the book , if you ask other than that they would probably wont know.


• Philippines
25 Mar 09
i started focusing on my studies when i was in grade 5 and when i graduated in grade 6 i got included in the honor list. so all my high school years, i also competed and got included in the honor list. but when i studied in college, there were so many intelligent people in the class, the subjects were harder,i lost my competitiveness and was just happy and contented that i pass the subject, now i regret it because college is the most important and you get asked in interviews why you have honor in high school but no honor in college =( but my sister said i should be contented that i was able to pass the subjects while some of her friends take the subject twice or more to pass it while i was able to pass it in the first take =) so i am also happy =)