Your funeral songs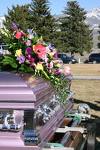 Australia
March 24, 2009 8:52pm CST
After attending two funerals in five days I got to thinking "I wonder what my funeral will be like?" "How will people choose to celebrate my life and all that I stand for?"I was thinking about my funeral songs and I think I will have happy upbeat songs. I found that the sad, slow, reflective songs that are usually played at funerals are the things that tip your emotions over the edge and cause meltdowns at funerals the world over. So I'm thinking 'House of Fun' by Madness, 'Jump Around' by House of Pain and perhaps some Meatloaf 'Paradise by the Dashboard Light'

. By the end of that one people will be rocking out in the pews. In all seriousness though, the one 'appropriate' song I would like at my funeral is 'Hallelujah' -Jeff Buckley's version (Leonard Cohen's is a bit upbeat). Do you have a song or songs that you would like played at your funeral?
4 responses

• United States
25 Mar 09
I remember some of the songs that are picked a lot are: My Way - Frank Sinatra (with Luciano Pavarotti) The Rose - Bette Midler The Way We Were - Barbara Streisand Let it be - Beatles When You're Gone - Avril Lavigne Bury My Body - Al Kooper My Heart Will Go On - Celine Dion (From Titanic Soundtrack) I must say that I would like a bag piper playing Amazing Grace and some Irish melodies, someone singing a song that I wrote or playing it would be neat, I would like there to be some song that just lets everyone know that I love them, that no matter what they believe they have ever done to me or that I have done to them, that I forgive them, ask for their forgiveness, and that I love and appreciate them and that no matter what I will always remember them kindly and wish them to be happy.

• United States
25 Mar 09
I am not a country music person but I would have to say one of my songs would be by Garth Brooks, "The Dance", I think that song says it all. After everything mankind goes through, we still as struggling humans would still not miss the dance. At least that is my thought on life. I love the video with that song for it tells it all.

• United States
25 Mar 09
Also another one was on Xena Warrior Princess it is The Burial Song. I think it is Hebrew & it is so very beautiful.

• United States
31 Mar 09
I'm tempted to say "Highway to hell" just to be funny. Probably..."My turn to fly" by The Urge, "How far we've come" by Matchbox Twenty, and "Save you" by Matthew Perryman Jones. They just suit me and my life best, and what I'll probably have been thinking about (maybe who), when my time's run out. The last one in particular is a song I find very beautiful...so yeah.

• United States
25 Mar 09
Well even tho I know it will be at my church im hoping that when I write down these songs for my family they will respect me , wich im sure they will even if the church dosent like it , lol after all they always have had a thing about me since I question everything and have taught my kids to do the same ;) any who yea of course the titanic song ;) I have about every one of her cd's and ironicly now that I thinnnk about it maybe a new day has come as well curch songs im thinking ill fly away i have always liked that and maybe it will make them thin about me a bit more lol but then again I wouldnt care much but the 2 songs I know I want played lol I just added to my myspace pg :) beautiful life by 6am and leave out all the rest by lincon park infact I have a friend who just lost her brother in a police chase and it just makes me think of him so I think ill send her a msg and have her take a lisen to that song since they will be planning somithing for the 1 yr ann of his crossing over , and I think it wuld help out his other brothers that he left behind since as with all things like that they trashed him without knowing what was really going on :( and his youngest brother was 12 at the time so it may help them :) im gonna try to think of some other church songs but i much rather have songs that are who I really am even if they arent church things , but I know that the people who really know me would understand why I chose those songs ;) ~M~