What about you?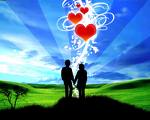 India
March 25, 2009 2:31am CST
Do you always agree with what you spouse is saying?Or will you be always against yours spouse? In my case, we both will never agree in anything and always against each other in our opinion.Even if I am ready to agree with her,she will make me,so that I turn against her automatically.Totally disappointed life.Please share yours...
3 responses

• United States
25 Mar 09
Hello kumarpslv! There are times that I agree on what my spouse said especially all about his plans on our future. He has good plans and I know it's good for us that's why I agree everytime. But when I am in a mood where I tease him, I always disagree..hehhehe


• India
25 Mar 09
I think you both are made for each other. Keep it up.Thanks for your participation

• Philippines
25 Mar 09
My husband and I have a different views in everything. It depends on the subject matter what we are talking about. But I can say that I am always disagree with the things we are talking about. I am a open minded person while he is a narrow minded. We don't agree that much and we often argue if I started to disagree with him. I will not stop until he realized that I am right. haha

• India
25 Mar 09
It seems that you are the dominating person among you two . Have a happy like and thanks for sharing your opinion.


• India
25 Mar 09
You are having a good tactics to get your wishes fulfilled , keep it up.Thanks for sharing your opinion.