The Ideal Mate

United States
March 25, 2009 11:45pm CST
do you have a wish list for you ideal mate? does he/she Have to be tall or blonde or a certain nationality?or if you are with your ideal mate, does he/she fit the wish list you had before you met?Earlier this week I saw Oprah show where women had a list of 27 things her ideal mate must be.Funny , I never had a list.The only three things I can think of is he has to be a non smoker, I am alergic. He has to Not want children, and and have a sense of humor.Beauty cones in many different packages. I must confess that I love redheads but that doesn't mean I Only like redheads. How about you? How long is or was you list?
5 responses

• Canada
27 Mar 09
well I have my man but what I was looking for was someone who would be good to me first and foremost, someone true to me and didn't have a wondering I someone I could share my life with, someone who was sufficiently intelligent that he could carry on a decent conversation someone who would listen to me and understand me, and accept me for who I am, and of course I accept him for who he is as well.

• United States
28 Mar 09
I hope you man is all these things.

• Canada
28 Mar 09
he is, and that is why I am with him now for over 10 years

• Canada
26 Mar 09
My ideal mate is the man I married. He's wonderful. He loves me for who I am, respects me for who I am, believes in total equality in our relationship, and has so many many wonderful qualities. He's a great cook (he made a pot of lentil soup tonight which was aboslutely wonderful!!), very intellegent, a fantastic writer (has three sci-fi novels published), and is extremely attractive in every way possible.

• United States
26 Mar 09
Wow all that in a husband! Yyou are so lucky.

• Guangzhou, China
27 Mar 09
I did have some dreams for my ideal mate long time ago. Such as I prefer he has some talents and he should be a honest person. If he wear glasses, then it will be much more attractive for me. It's very interesting that my husband has the perfect eyesight and he doesn't need glasses at all:) I love China




• United States
26 Mar 09
Well my son said that my list is out of reach..so be it. I want someone that comes over bringing supper then throws in a load of laundry for me so I can work on crafts and writing.....he has to be patience.....sitting on the bed lovingly watching me as I write another book. He has to love craft sales....be good in the sack and thinks the sun rises and sets on me....for the most part those are true. I really don't need him to think the sun rises and sets on me or what I do! LOL

• Philippines
26 Mar 09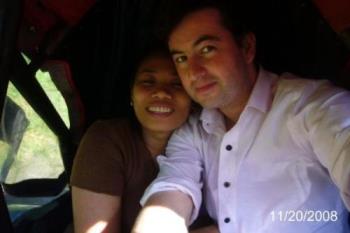 I have no particular "physical ideal mate" The "ideal mate" that I want is someone like my bf who is honest, thoughtful, sweet and a very nice guy