Tom Cruise's best movie so far...

United States
November 10, 2006 7:23pm CST
What do you think is Tom Cruise's best movie so far? He's acted in quite a few interesting ones.... Top Gun, Born on the Fourth of July, The color of money, Interview with the Vampire, Cocktail, Eyes Wide Shut, The Last Samurai, The Mission Impossible Series, Magnolia, Jerry Maguire, The firm, A few good men, Rain Man, War of the Worlds... I think I liked the Last Samurai the best..
11 responses

• Netherlands
16 Nov 06
I am not really a fan of his or keep up with celebrities but I did enjoy Interview With The Vampire and Vanilla Sky.

• United States
18 Dec 06
I haven't seen Interview with the vampire.. Vanilla Sky was interesting though ! I believe that was the movie that split up Tom Cruise and Nicole Kidman and brought together him and Penelope Cruz :) The movie was a remake of a spanish film that I had seen.. so I felt it wasn't all that unique..

• United States
16 Nov 06
I am yet to see this movie.. I did not like MI2 all that much after the original MI.. I figured sequels are rarely that good.


• United States
13 Nov 06
Sorry to hear that... You never liked him since before or only recently ?

• United States
11 Nov 06
I dont know anything about Tom Cruise..but that's because I don't keep up with any celebrity or do I know there names!+

• United States
11 Nov 06
That is impressive indeed! I can say that you've avoided wasting time on a lot of useless gossip about other people's lives by doing that.. :) However, does it also mean that you don't see any movies ? Now that is something !

• United States
10 Jan 07
I really liked his performance and role in The Color of Money - he was young enough not to have become his own franchise, and it fit his character and teaming with Paul Newman very well. Of his more recent work, I've enjoyed Eyes Wide Shut and his role in Magnolia (even though it wasn't a lead role, I think it was a great performance/role for him).

• United States
23 Dec 06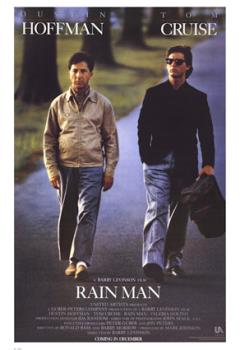 My favorite role of Tom Cruise's was that in "Rain Man". I feel his portrayal of the older brother of Dustin Hoffman who suffered as an autistic savant was truly amazing. It was by far his best acting. Dustin Hoffman also pulled off one of the best acting movies of his career. Even though the movie was made in 1988 it is still a favorite and well worth seeing. Also, I can't resist the scene in "Risky Business where he dances in his underwear. LOL

• Pakistan
17 Dec 06
the best from tom cruise are the last samurai and war of the worlds.... we can put MI3 in this category also

• India
16 Nov 06
i think MI series is the best


• India
16 Nov 06
Jerry Maguire..... It is one of my most favourite all time favourites...it is the bigest motivator for me.