Somebody Asked So Here It Is!!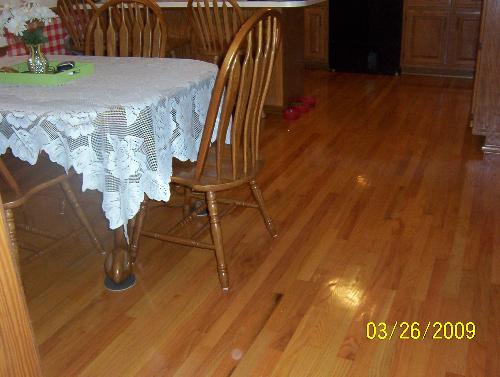 United States
March 26, 2009 8:45pm CST
My wood floors have been refinished and they look awesome!! Wow!! It was well worth the $650. that we paid!! They're so shiny that they look wet all the time!! Check out my picture but don't mind the little spot in the middle/bottom area, it's the film not the floors. Hubby and I had to put new bottoms for all the furniture so it won't scratch the floors and then I got a table cloth to put on the table and it just dresses it up right nice! Perfect!! LOL It was worth staying upstairs for a week.... LOL.... Yeah it was!!
5 responses

• United States
27 Mar 09
Very nice. It would not be possible for me to get any of my floors done if I had to stay off it for a week.

• United States
27 Mar 09
Well if you ever decide to do them then you could come and stay with me for a week!! I wouldn't mind having you! In fact, I think it would be fun! lol We could do some gardening, play some board games, cook or what ever we find to get into!! Then when it was time for you to go home, you'd be in for a right nice surprise!! lol Trust me, it would be WELL worth it!!

•
27 Mar 09
That really is lovely - no wonder you think it was worth it to stay upstairs for the week. That would be impossible in my house - apart from not having any cooking facilities - the kids wouldn't cope - and a week without being able to get to the washing machine in this house means that there would be nowhere to move with all the piles of dirty laundry! xxxx

• United States
27 Mar 09
Kids are stronger than they seem. They can handle what ever mommy and daddy can if they're made to. I say that because my parents did what they wanted when they wanted. They didn't let any of us kids stop them. How we did our laundry is go out the office window and go around to the back door which is the mud room which is where our washer and dryer are and wash our clothes. Of course to get back upstairs, we had to go around front and go in through the office window. It wasn't easy but it was only for a week and it was well worth it!! As for cooking, get a hot plate to cook with and a couple of pots and pans. lol

•
27 Mar 09
See I am different - I will do things if I NEED to for me but I decided to have children, very actively with my youngest as I had to have fertility treatment to have her - and I feel that when I made the decision to have kids I also acknowledged that their needs had to come first too. As for climbing in and out windows - there was a time when I would have loved that and we would all have had fun but since my disability and mobility problems I feel the kids have enough to put up with and miss out on and I could never manage that now as I can barely walk and even then not far! xxx

• United States
27 Mar 09
I wonder who that was that asked about your floors, some people can be so nosey. Your right it was worth staying upstairs, the floors are beautiful. They did a really good job on them. That spot in the picture is from the flash when you took the picture, that shows how shiney the floors really are. Thats a really good price to have that work done too.

• United States
27 Mar 09
Yeah.... some people ARE so nosy!! LMBO!! Oh Polly, I so enjoy talking to you!!

You can make me laugh!! lol The spot at the very bottom center looks like a blotch from the film but maybe it is the floors shining through....? I know the other two spots are for sure but not sure about the one at the very bottom center though. Another thing, I put up some pictures on my home page of the staircase from the office to show how it goes. It's a strange way of how it's done but we didn't do it but it's really cool. Kind of a hidden secret place that no one knows about unless they were to open the door and lo and behold, what a surprise! A staircase to upstairs!! LOL Check it out! And by the way, I'll be starting another discussion in a few minutes about being humbled by all the responses I got on my parents and my low life brother. I do appreciate your response as well as the others because I feel the same way but yet, I'm angry and hurt. Hubby wants it to end but with them defending us because right is right and wrong is wrong and has been strong about that. Then last night he tells me he's been really depressed and doesn't know how to snap out of it and asked me how I did which is taking zoloft. However, that's when I realized, that's what his aggression is really about. Yes he's angry but he's also upset at the situation too because he sees how hurt I am and he said he told my dad the day before (Hubby took dad to his doctors appt at the VA which is 2 hours away) that he's seen me be disrespected time and time again but it's not going to happen anymore because I've done nothing but help them all the while my brother has been making us look like the bad ones but it won't happen any more. When hubby came home and told me that, I teared up and told him that I'm not only angry but I'm hurt. Very hurt but I wish he hadn't said anything to dad because he's so far up in age and has so many health problems that he really can't handle it right now but since he did to please let old dogs lay where they may. But now after he told me he's been so depressed, I see where the aggression is coming from. After all, his mom just passed away in May and his step dad, the only dad he's ever known, passed away on new years eve so yeah, he has every right to be depressed so now I know what I have to do which is keep him from my parents. At least for now. There is something else to add too but I'm afraid I might run out of room and it'll get cut off so I'll add it after I post this one....

• United States
27 Mar 09
Ok, the other thing is.... Before hubby retired and was still in Arkansas in the Army, I was in North Carolina living in our new house waiting for hubby to come home so I was here alone till hubby got here. My brothers knew this but yet, one of them, the low life one came down and helped his step son and his new wife to move into their apartment during one weekend. He KNEW I was here alone but did he come and see me? NO. I was just an hour to an hour and a half away and he couldn't come and see his own sister? NO he could not. Here I've been gone for 15 years, coming home in spurts of maybe once or twice every 3, 4, 5 years so now that I'm closer to our home town, he was able to help his step son and his new wife to move in the same state that I'm in and yet he couldn't come and see me knowing full well that I'm all alone. Mom and dad hadn't moved down here yet, that happened the following summer. How do I know this? DAD TOLD ME! He took me aside and told me that he's going to tell me something that he thought I should know and told me that my brother was just down there helping his step son move and didn't come and see me. Now if dad can't handle an argument then why the hell did he tell me about that? I honestly don't get it. It's like one side is white and the other is black. Sorry but it's not washing so yeah, I'm getting conflicting information here, you know? So how do I decipher it all?

• United States
27 Mar 09
Hey cats! I am so jealous! I want to take up my carpet and redo my floors so bad, but I can't afford to do it and since they are not my floors to begin with I'm not going to pay all that money to fix my landlords floors! And they want us to have carpet down! I hate carpet and I really need new carpeting and I don't want it and can't afford it anyway! I love your floors and I have always loved the way floors look when they are all nice and shiny and bare! I so wish that I could have mine that way too!

• United States
27 Mar 09
I'm the same way, I'd much rather have hard wood floors throughout my house but it's too expensive to do right now so we deal with the carpet. We're constantly having to shampoo the living room area all the time because it shows so much dirt and debris that I can't stand it. I might as well live outside if it looks like that! lol So yeah, I'd much rather have hard wood floors too.

• Canada
27 Mar 09
Staying upstairs for a week? What if you had to leave the house? How did you do that? :) As for hard wood floors, they sure are nice. My mother got hard wood floors put in not long ago, and they really really look great in her house. We live in an apartment, so we really don't have a say in what goes on the floors.

• United States
27 Mar 09
The way our house is shaped on the inside is awesome because the one bedroom or what used to be a bedroom is now an office and on the front wall and turn around, there's a door and that's where the staircase is. LOL It's not out in the open like most staircases are. There's a door in the office AND a door to the staircase. It's really hard to explain so I've posted some pictures on my home page but it's not coming up in order that I want it to.... arg!! So let me give you the titles, Our office, go to window and turn right, Turning right, see the door?, Office Staircase, Staircase to upstairs. That's the order I took the pictures so it'll explain how exactly how our staircase works. It's weird but yet it's nice! Some day we'd like to put a spiral staircase in so to free up some space. But that's a SOME DAY type of thing because it costs money.... lots and lots of money to do it. lol Now you asked how we got outside, we used the window in the office. Hubby took the screen out and we let out dogs out to pee out of the window. We'd put them in the backyard, however, the doggy door was closed off so they couldn't get inside. Cats came and went as they pleased. It wasn't easy and the smell of the floors being done was OMG!! It really stunk bad so we had to use some towels to cover the bottom of the office door that leads to the rest of the house and it helped a great deal. It was a little inconveniencing but it was only for a week so we managed but BOY! Where we ever happy to get out!! YES!!!! LOL