Assertiveness training for children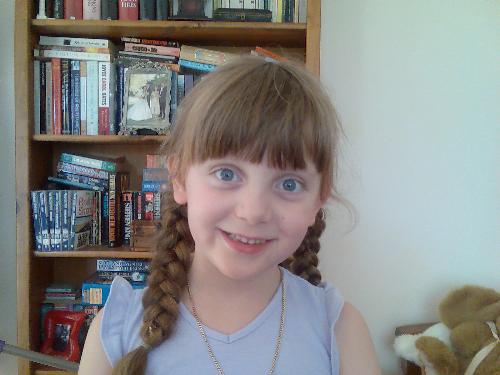 Australia
March 26, 2009 9:43pm CST
My daughter is seven; she's a gentle soul and loves being with other kids and is quite popular. The problem I have with her is that she is a pushover with her little pals. She is not bullied but she has a hard time standing up for herself. I sometimes listen in when she has a play date at our house and I can see many instances where she is told what to do and will not speak up, as an example she loves playing "teachers" and every single time she plays with a friend she never gets to be the teacher she gets told what to do and she does it! Here is another example she was at an arcade with her friend and they both had a games card each. The idea is your points get stored in the card as you play and at the end of the session you can collect a prize depending on the number of points, of course the more points the better the prize. Her friend would not let her use her card and continually scanned her own so she would be the one with the points, I witnessed this and interfered but there are so many times kids will "swap" things of hers that they like and she does not say very much at all. It breaks my heart to see it and I'm not always there to help her. I have subtly spoken to her about it and she says that she finds it hard to stand up for herself. I have given her tips on how to do this but I don't want to put pressure on her. Any ideas anyone?
3 responses

• United States
29 Mar 09
Aww Paula. I hate when I see children being picked on like that. Not that's obvious bullying, it's almost more subversive. You might want to try the Beranstain Bears collection. They may have a few that deal with this type of behavior. The Arthur series may also have stories where Arthur has to deal with standing up for himself. I pulled up a couple of websites that have some elementary books that deal with bullying and being assertive. Maybe there will be something on here that can help you. http://www.carolhurst.com/subjects/bullies.html http://bullying.suite101.com/article.cfm/childrens_books_on_bullying Namaste-Anora

• Australia
29 Mar 09
Thanks very much for this information Anora, I really appreciate it. She loves to read so books on the subject may be very effective. I will check out the links too, thanks again!


• United States
2 Apr 09
Thanks for the BR. I hope she begins to find her own self, and learns that it's ok to say no. Namaste-Anora

• United States
31 Mar 09
I would try some roleplaying. I would act like a kid at school and see how she handeled different situations. If she is unsure or you feel she didn't handle it right..suggest what she should do..let her be the bully and you show her how. Make it a game. If you arm her with the skills she needs she will do fine. You can protect her in other ways. By this roleplaying you can see what situations bother her the most too.

• Australia
31 Mar 09
That's a great idea! There's a new game she will love to play. Thanks Jen!


• Australia
27 Mar 09
Ahh, parenting. Paula, I wish I could help, but I can't offer any advice, except that she may grow tired of being bossed. Are there any story books that cover this topic. It may be worth a search. You might find something of value. Good luck.

• Australia
27 Mar 09
I may just go and look for a book, that would help because she loves to read. Thanks!