Ram DDR or DDRII? Which is the best?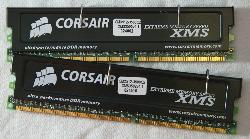 Italy
November 10, 2006 8:18pm CST
I have tested it all, but I don't have seen most difference between them, but DDRII have low price of DDR, which you prefer? Or which you have?
10 responses

• Italy
11 Nov 06
Naturally the ddr2 have greater performances of a normal ddr

• Italy
14 Nov 06

-------------------------------- I think ddr2 are more fast. have a nice day. Bye. --------------------------------

• India
11 Nov 06
Honestly... i haven't used either of them..

• Manchester, England
11 Nov 06
If you have tried both then surely you must have done so in different computers because the reference notch of each is aligned differently so they will not fit in the same motherboard. This makes comparison a little less realistic. The DDR2 dimm starts at 400 Mhz, which is the top marker for DDR and should accelerate performance but until recently the technology to take full advantage of this was lacking. You may currently find DDR outperforming DDR2, but that should change soon.

• India
30 Jan 07
DDR 2 is a new type of ram. it consumes less electicity and faster than normal DDR ram.I have DDr ram cause my PC dosent support DDR 2 ram.

• India
29 Jan 07
HI frend, According to me The DDR2 is the best because it offers a high speeds upto 633 and i herd even more. This perfomance can only be seen when you are working with any videos or any designing works because during this time a lot of memmory is being used. And DDR it offers speeds upto 400 mhz only ... it was cool performance till DDR2 was introduced. but now its performace is low according to my opinion. So i will advice you to purchase DDR2 itself .. first of all it cost sum 50 bucks more than DDR so itz better to chose the latest technology.