Snowfall in the Spring....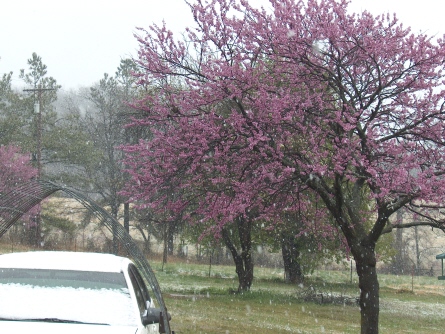 United States
March 28, 2009 12:53pm CST
I thought it was supposed to be Spring time...what's with the snow we're getting today? I live in Oklahoma and they always said we have weird weather here. Here is a picture of the snow we are getting right now, its been so warm lately that all the trees are budding, as you can see my Redbud tree is all bloomed out, and you can see the snow coming down. I hope it doesn't ruin our trees, because my pear trees are budding too. I thought this would make a great picture, I think Mother Nature is getting mixed up. How about you, is the weather your having a weird one too? Where is Spring?
9 responses

• United States
17 Apr 09
The weather is fine now but a week ago I'd say it was chillier. May have been longer then that. It's odd how the weather is, but I honestly think it's pollution that's causing it to go all wacky. I live in the south, North Carolina to be exact.

• United States
17 Apr 09
Yeah, the weather has gotten better here too, we've still been having the ups and downs as far as the temperature goes, but I think its safe to say that the snow is gone..ha. Yeah, I think the weather has gone wacky, who knows what kind of summer we're going to have, I hope it don't get too terribly hot, then I'll be looking for a cooler place to go...lol. Thanks..

• United States
17 Apr 09
Summer's here aren't too terribly hot, I think the humidity is what does it. Not sure if we'll be in NC this end of summer / fall or not. After my fiance and I get married we might going on vacation with his parents. Texas and then Arizona, probably not the best place to spend summer though, lol.


• United States
29 Mar 09
Yeah, Spring got put on hold...its weird because we don't hardly ever get this much snow, I think we've only had snow twice this winter and even then it was only a dusting gone within an hour. I'm glad I don't live there, I don't think I could handle as much as they get...ha. Thanks

•
31 Mar 09
We are getting all the strange weather in England as well.Heavy rain causing floods not matter what the time of year.Snow and frosts right into April ,the days of proper season changes have gone.Global warming I suppose ,cut down on cars and travelling ,sometimes I think it would have happened anyway.I long for the days of long hot summers ,all we seem to get is wet wash outs with two or three hot days to get on the beach dream on.

• United States
31 Mar 09
I guess the weather all over the world is crazy right now. Right now we've also been having rain and thunderstorms, alot different from the day we had snow, I suppose it has something to do with Global warming too. We do get some hot days during the summer, sometimes it seems the only way to cool off is to spend the day in the water, then we're wishing for cooler weather...I guess we're never satisfied..haha.Thanks.

• Philippines
29 Mar 09
Yes, Mother Nature is getting mixed up indeed. I thought it's only my country! Well if you are having snowfall in the spring, we here in the Philippines are getting rains in summer. It is supposed to be summer but rains fall at any given time, then sun will shine again. It's really a big mix up. Certainly, the budding trees will suffer because the flowers will surely get destroyed by heavy rains.

• United States
30 Mar 09
Yes, the trees will suffer, our pear trees are budding and have flowers on them, but looking at them today one of them isn't looking very good, I won't be surprised if it never gets any fruit on it. Today its warm and the sun's shining, alot different than it was Sat. when we had the snow. Thanks.

• United States
29 Mar 09
Yes, I think we have the same feeling. I felt weird with the weather we have now in spring. we don't have snow her but our temperature is still freezing. I could feel that it is still winter instead of spring.. hahahaha



• United States
29 Mar 09
Yes, we do...its weird because here we've had Spring weather for the past few weeks, everything is starting to turn green and all the trees are budding, then all of a sudden heres this snow...ha..Thanks

• United States
28 Mar 09
It is never really spring until after Easter. Every year Where I live in west TX it either smows, sleets, or hails Easter weekend. A few years ago I forgot about this rule of thunb and planted a garden. All of my little palnts were 3 inches tall and had beautiful leaves on them and then Easter came and it Hailed. nothing was left but stalks. Ya'll be carefull if you are in that area.

• United States
28 Mar 09
Yeah I guess the weather in our area, whether your in Oklahoma or Texas is unpredictable. I remember last Easter it was cold, I think it was in March last year, we went to the zoo in Tulsa and about froze we had a Easter Egg hunt for the kids and little picnic we were sitting out there freezing..lol. I started another discussion about gardening, we burned our garden spot the other day but right now it don't like we'll be doing anything, you'll have to check my picture out on that one..Thanks

• United States
28 Mar 09
Hi Walijo! I was waiting for your picture to see if you got more snow than we did in Norman. Looks about the same. It was supposed to stop this morning, but it hasn't yet. Aren't you glad that you don't live in the panhandle? Thy got quite a bit of it. Supposed to be back to normal (whatever that is) tomorrow, so enjoy today.

• United States
28 Mar 09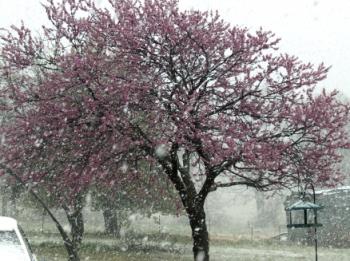 Hello..Well it wasn't snowing much when I took that picture but a little while after that, it started snowing harder again, and I took another picture, and here it is. Its coming down pretty good right now, almost looks like a blizzard. Thanks..

• Holiday, Florida
23 Sep 09
well i think the weather has been unbelievable in the past 5 yrs or so. it seems global warming or something is really fooling with it bad. like here, in AZ its supposed to be having the monsoons by now. but in this area, no rain for many weeks. and we are needing it. just 20 miles away though its rained several times in the past week



• United States
28 Sep 09
Yeah, the weather has been unpredictable this year, we've had alot of rain here, we've had a wet spring, summer, and probably a wet fall, and they're all saying that we'll have a cold wet winter this year...Thanks

• Jamaica
17 Nov 09
Wow thats weird but not impossible with the kind of pollution and destruction of environmental resources ,anything is possible . I remember befoe that the El nino or El nina phenomenon and the implications of that so I am not suprised anymore .The best we can do is hope things dont get worse and at best remain manageable and I guess that is where we all come in .I guess that is where we can do our little recycling and tree planting excercise and if we all do taht we will atleast be able to stem the tide