When is a good time to garden?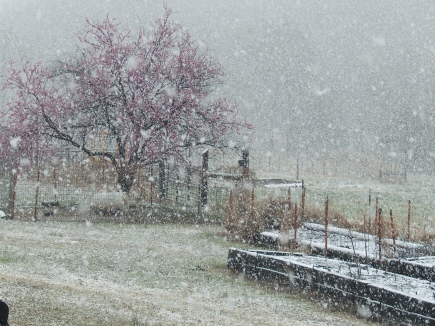 United States
March 28, 2009 1:09pm CST
Just the other day we burned our garden spot, my husband thought it would be a good time to get started on it, its been warm and we've had Spring like weather for the past few weeks. Well we had some snow today, and this is a picture of our garden spot that we burned, as you can see the trees are all blooming too, look at my Redbud tree with is pretty pink flowers. So tell me when is a good time to garden? How about in your area are you able to get your garden ready or is the weather still interfering with your progress?
7 responses


• United States
29 Mar 09
Yeah its good to wait till after the last frost. Here, as you can see, will have to wait a little longer...ha...Thanks

• United States
29 Mar 09
Our garden is now ready for planting but I think, it is not yet time to plant because we still have frost. As far as I know, here in my place the best time to plant if Late April or Early May.. but it depends also upon the plant that you are planning o grow. I did plant some seeds last week but did not grow yet until now. LOL.

• United States
29 Mar 09
Yeah, here we wait till the last frost, its just so weird for us to have all this snow this late, for us its late, we don't get that much anyway. Thanks

• United States
28 Mar 09
What do you grow in your garden? I have a perennial garden, and almost everything is sprouting already. In fact, my clematis already has flower buds. This little bit of snow doesn't seem to have bothered anything. If you're starting from seed, it needs time to germinate anyway. Seed will sit in the ground until the soil temperatures go up at least to the 50's. You have to admit...with the weather, it seems like a good time to put in snow peas...


• United States
28 Mar 09
Haha...Snow peas, they would probably grow right about now huh? lol. We used to grow just about everything, we quit for awhile, but I think this year my husband is thinking about doing it again, thats why he burned the garden spot the other day, it was so nice that day, we didn't think we'd see it like it is today. Thanks.

• Holiday, Florida
29 Sep 09
well here in AZ its so hot most of the time, i dont think ANYONE knows

people have told us different things. people that were supposed to be experts

2 times my son has tried to plant grass. first time a freak frost

got it. then next time it was to hot!!

• United States
30 Sep 09
Yeah here the weather is so unpredictable you can't ever tell, just when you have your garden spot all ready we'll get a late frost or something, thats what happened last year...Thanks


• United States
29 Mar 09
Yes its best to plant during the summer when its warmer, and hope that we get some rain to water it...Thanks

• United States
18 Oct 09
Well, we just recently moved into a home we just bought a month ago, and have not really decided what we want to do with all of our space we have in the back yet, but we do know we need to do a lot of removing of stuff, etc. for sure. The people who sold the house had not really lived here for a while, so things are in a little disarray outside for sure. But we will probably start considering what we need to do come April.

• Philippines
29 Mar 09
For me the good time to garden is during the cold weather which comes from November to February. There are also some rains during this summer so the plants grow quite faster. It could not be during rainy season because the flood comes when the rain is too heavy and continuous and it destroys the garden. It could not be during very hot season as well as plants get burned with the heat and ultimately die.