Not again!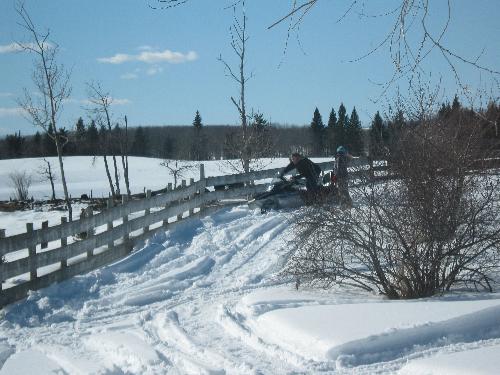 Canada
March 28, 2009 5:03pm CST
Its a nice day. My sister is thinking its a nice day for skidoing. My dad let her drive his new skidoo - around the yard and not on the road mind you...shes 12. She has to wear a helmet and if she stays in the yard it's easy for him to walk out and get her unstuck. We were out on the deck and i heard the motor stop and i said oh shes stuck again and dad says na shes not. Then we hear this loud NOT AGAIN from behind the house. And he says yup i guess id better go get her out. i went through the house to look and yes she is stuck close to the fence. My dad goes out there lifts it up and moves it - its not unstuck. They come in and She goes "he just makes it look so easy to get it out" I said well hes big and tough and sweetie you're just twelve and not very tough you cant lift it out like he does. I guess she was told she had to get off the skidoo for a while. Do you go skidooing/sledding/snowmobliing in the winter? Have you ever if you dont do it on a regular basis?
3 responses

• Denmark
28 Mar 09
Unfortunatly where I live we don't have enough snow in the winter for something like this. We get some snow but never enough to even cover the ground :(

• Marion, Kansas
28 Mar 09
Nope, I do not do any of those. Around these parts Skidoo makes a watercraft. It looks like a water motorcycle, so to speak.

• Marion, Kansas
28 Mar 09
It has been at least fifteen years since I have been on one.

• United States
29 Mar 09
Hi saundyl! Oh! That's so cute! I've never ridden one of those before! I would love to though! I have never gone snowmobiling either! It sounds like so much fun! It's been alot of years since I have really ever even gone sledding! At this point in my life I am way to breakable and I have to watch myself just walking in the snow and ice!