Denise Richards tosses laptops from balcony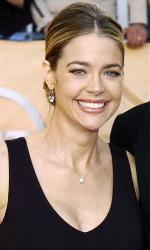 Canada
7 responses

• Philippines
19 Dec 06
If she tossed it without knowing she could hit someone case would be reckless imprudence.

• United States
12 Nov 06
She should be fine and have to apologize to the old ladies, and then the press folks ought to be given five across the eyes. :)

• United States
12 Nov 06
I herd about this she was upset at the poporasi.. i dont know how to spell but YES i think she should be charged .. anyone else would .. she should also try anger managment.. children look up to her and if she cant control herself then she should not be in all the eyes of children


• United States
11 Nov 06

• Canada
11 Nov 06
She was blowing up at a few paparazzi on the set of Blonde and Blonder, a comedy Richards is starring in alongside Pamela Anderson. Richards objected to the unauthorized paparazzi's invasive presence and approached two of the lensmen. Unfortunately, she apparently failed to clear a path for the computers' destruction down below, as one of the laptops hit an 80-year-old woman in a wheelchair in the arm.


• Australia
4 Jan 07
If she injured someone by doing something so stupid yes she should be charged and fined heeps.