Should Not The Democrat Party Be Listed As A Fascist Party?

United States
March 30, 2009 2:37pm CST
I am not talking about Nazism, but I am comparing Benito Mussolini's Italian fascism. Mussolini was 100% opposed to laissez-faire economics, which it seem to me at lest that every Democrat currently believes agrees. Fascism teaches that capitalism cannot be trusted, because capitalism allows private citizen too much freedom. Fascism teaches that private enterprise must be regulated. Fascism is opposed to free trade because it give private citizens too much freedom. Under Mussolini Italy increased their public works programs to rebound the economy and started government ownership of companies. Under Mussolini Alfo Romoe was brought under control by the government just like GM is currently under the control of Obama. To me it looks like the Democrat party under Obama has decided mirror the economic policies of Italy under Mussolini. Is this really the direction we want America to go?
6 responses

• United States
30 Mar 09
Hmmmm... you may be on to something. We need to keep an eye on things to see if there is anything to your hypothesis. I say that because just today, I speculated something that is also Mussolini like on the part of 0bama's administration. Our impossible to pay off debt could be eliminated by a war with China, IF WE WON IT! How like Mussolini is that? Of course, these democrats need to remember what happened to Mussolini. I can't find the pic right now, but Italians hung him upside down for public display after shooting him and dragging him through the streets.

• United States
1 Apr 09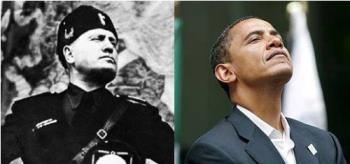 By golly you are right. Here it is.

• United States
30 Mar 09
Nazi works as well... Socialism in all of it's many forms opposes Capitalism. Socialists use Fascism to stifle all opposition to their agenda, such as limiting speech and demonizing any opposition.... which is exactly what we are seeing in America under this president and this Congress. Socialism has long been a goal of the liberals in America, but after the betrayal of Bush, and the election of the 0bamunist, the socialist agenda is being fast tracked at every opportunity, as the liberals realize this is now their best chance to achieve their long held dream. I keep reading how America is still mostly conservative... if that is true then we have to work hard and fast to defeat these enemies from within.

• Canada
30 Mar 09
I am more familiar with the Nazis (my father and uncle being in the WAr, and also all those War movies I watched._ But if Obama wants everything under government control then it is more like facism. By the way, they did the same thing with Communism in the former Soviet Union. In fact, I feel that the only difference between Communism and Facism is that the former believes there is no God and I guess in the latter the State is the god. Come to think of it, in Communism they believe the State is the god, but they are not as honest. Anyway a government that rules everything and is against free enterprise and captitalism and people with money (unless, of course,they are democrats and loyal to Obama and Obama and his minions,() is not right. Look what happened to the countries under Communism and Facism, their economy was ruined.

• St. Catharines, Ontario
30 Mar 09

• United States
31 Mar 09
No, it's not. I hadn't thought of it in these terms before. I just know that I campaigned hard against our current president. I was disappointed when he won. But, I am commanded in my bible to now pray for my leaders whether or not I agree with their politics.

• United States
1 Apr 09
It doesn't matter what I think about their politics! I am instructed to pray for my government leaders. I may not like what they're doing (which I DON'T) but I still have an obligation to pray for them! Now, will I be jumping up in 2 years when senators are up for re-election to get some God-fearing men/women in the senate and house? You betcha! And in four years to get the white house free again. In the meantime, I will pray simply that he grows a conscience before making another half-#&* decision that effects the world my children will inherit.

• United States
31 Mar 09
I think you hit the nail on the head, and hell no, I don't want this to happen to my country!