Movie Review: Confession of a Shopperholic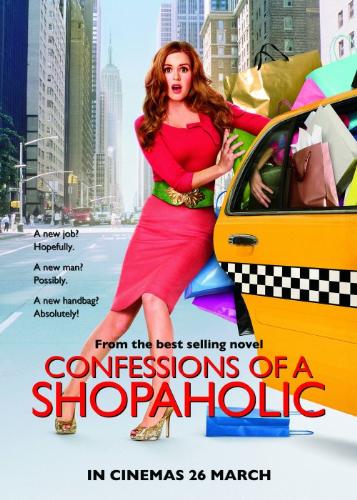 Singapore
March 31, 2009 2:16am CST
The show is better than I expected. Going into the cinema, my mind was filled with pictures of a shallow woman doing as much shopping as she can, then joining a lame anonymous group to quit her obsession with shopping. Thinking it was another Hong Kong movie rip-off, I did not have a good feel of the movie when I first decided to get the tickets. But I still watched it anyways for various reasons. When the movie first opened, it showed a woman shopping and shopping and shopping. And then going back to a dead beat job writing one of the many common magazine firms to fuel her shopping habit. When the firm Rebecca Bloomwood was working for closed, she desperately seeks another job to settle her mounting debts from her shopping habit. In a bid to try and get into one of the famous fashion magazine, she landed a job in a financial magazine, hoping that it would be the stepping stone towards her ultimate goal fo writting for the fashion magazine. In a drunken stupor, she mixed up the letters she sent to the two magazine firms, leading the financial magazine editor to think that she is writing about financial advises using metaphors. She was hired then as a financial consultant writing for a column dispensing financial advise that goes against everything that she does on the financial front. What follows is a series of fool's luck events, leading to many people loving Rebecca for the things she wrote and the things she does. Slowly she fell in love with the editor who hired her. When her creditor exposed her during her TV interview that was televised nation wide, she was fired from her job. And in the midst of picking herself up, she found that there is more to life than just shopping and spending money. Picking up the pieces of her life, she managed to clear her debts, recover from her shopaholic habits and gain back the confidence of her editor boss and they became a couple. The show is quite simple in terms of story line. And that feel good factor at the end of it, makes it worth a watch. No silly cliches or shallow referrences to dumb-blonde jokes as I anticipated before sitting down to the movie. The one thing that I remember most is that scene where Rebecca's father offered to sell his RV to help her clear her debts: "You cannot sell that RV dad! It is what defines you!" "No, nothing else in this world defines me other than you and your mother. The both of you are what defines me!" That has got to be the sweetest lines I have ever heard! Give this movie a go if you do not mind a simple storyline and a predictable ending. But you walk away feeling good about watching it. Worth the ticket for that feel good feeling.
7 responses

• Singapore
1 Apr 09
haha =D I know which is the hongkong movie u are referring to, izit the one starring cecilia chung?? lol =D Well, i dun think i will watch it because critics from newpaper is not as good, and i think i will skip it.. lol =D I dun like stories with such plots or storylines because their ending are often so predictable.. lol =D As such, i might as well go for something more realistic or maybe more exciting, like the movie, 12 rounds.. lol =D That line from the movie is indeed sweet, and i guess, i wont get to hear it from anybody in real life.. lol =D

• Singapore
15 May 09
The hong kong version was terrible in my opinion! A string of slap sticks lifted from other comedies and stringed together by some cheap writer, who got a cheap director to make a movie out of it. Comparing the hong kong version and the one recently screened in cinemas, is like comparing apples and oranges! But if you are seeking to while a lazy afternoon away, this is a good choice! And your significant other will definitely love you for watching something that is down her alley!



• Singapore
1 Apr 09
It was gratifying to see storyline that makes sense without all the silly redundant humour. It's celebrating all the shopperholics in us, when we could go as far as to state a valid reason that shopping helps to stimulate the economy and we're doing a great good. That's also one of the feel-good thing huh? But perhaps in reality not everything ends with a good ending. The movie tries to tell us that shopping does not necessarily gives us the real happiness we think it can give, and certainly not every shopperholic can find someone who can help him/her clear the shopping debts.

• Indonesia
31 Mar 09
hello ahgong, sounds interesting!!! is it the title of the movie? "confession of a shopperaholic?" the plot story describe as it is happen in a true life and i like the quote at the end from your writing, the father feels to her, his love is very big to his family, and it is really touching


• Singapore
31 Mar 09
I may have gotten the title a little wrong. It should read : Confessions of a shopaholic. Refer to the attached poster for the accurate title. Typed too fast lah. And the spell check did not extend to the title box.

But yeah, the movie is quite nice to watch.


• Israel
31 Mar 09
It sounds like a very joyful movie, thanks for your review! I might go to watch it :)

• Hong Kong
1 Apr 09
I have watched the trailer and it interested my quite a lot. Looks as if there is a meaning behind the story. After reading looking at your review, I think I would like to watch it more. It's not showing anymore so I better wait for the DVD.

• Singapore
31 Mar 09
I totally agree with you on that one ahgong. My wife literally dragged me along to watch this movie, and to be honest I did not expect it to be good. As the movie progresses and as the story unfolds, it started becoming tolerable, entertaining and worth watching. The most heart touching line in the movie was indeed the "Nothing else in the world defines me other than you and your mother", and it kinda gave me a hearty touchy feeling after it was delivered. I do recommend people to watch it, I think Isla Fisher is a breath of fresh air.

•
31 Mar 09
I must admit when i first read about it i didn't think i would enjoy it because I classed it as a "chick flick" but I was bored a few days ago and watched it and thought it was a good film. Don't get me wrong it won't win any prizes but its funny in parts and very watchable :)