Which came first, the chicken or the egg? Please explain your answer.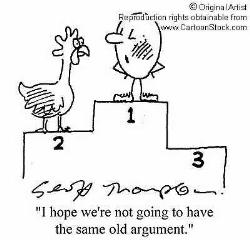 United States
November 10, 2006 10:13pm CST
OK, I know...it's an old worn out question...but I wanna hear what you think. Please explain how you came to this conclusion.
6 responses

• United States
28 Nov 06
well, i think the chicken came first..the chicken was created,and then had to have a way to re-produce...whether you're into creation or evolution, i think the only logical viewpoint is that there just wasn't all of a sudden a chicken egg laying on the ground ready to hatch...as it was with people...either way, we didn't start out as a fetus out of the womb....just my opinion, maybe someday we'll know for sure, huh?

• United States
7 Dec 06
I believe that as well..God created animals, not embryos first...lol

• United States
11 Nov 06
I don't believe I've ever seen one of those...do you have a picture of one?

• United States
11 Nov 06