April Fools day wishes!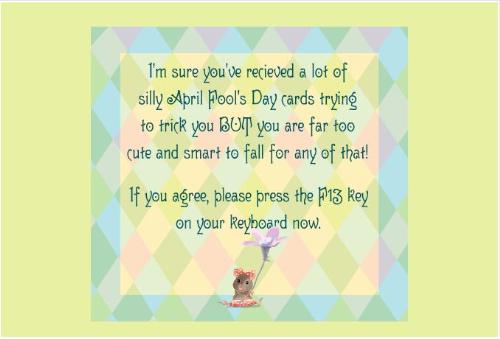 India
8 responses


• India
1 Apr 09
Hahaha....you caught me there! I am bowled with that F13 key!

!


• India
1 Apr 09
That happens only in windows 95 no such problem in 98,XP,Vista or other OS. My friend has configured it to open the media player.


• India
1 Apr 09
Hmm... that "for a second" is what makes all the difference

• Cambridge, England
1 Apr 09
Since there are so many discussions with very little value these days, there is now an easy way to clear such discussions from your screen. Just press the following keys in quick succession: Alt, F, C

• India
1 Apr 09
Dont even bother.., there are easier ways... just use
Ctrl , W



• Nigeria
1 Apr 09
F13 is a virus. Therefoe, permit me to press any key to continue. Happy April Fools day

• Pakistan
1 Apr 09
No, I can do it all by pressing control+shift+p. If not believe do the same as I suggested.