What is the Best thing Done in your LIFE???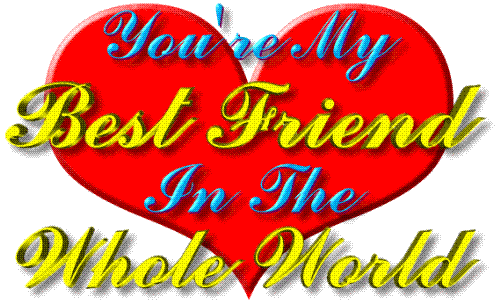 India
April 1, 2009 8:13am CST
Its hard to say but in my life i did...frankly speaking friendship with everyone i knew and i will continue it.So what is the best thing you have done in your life? Let me know everyone will have and will do a best thing in their lives and praised by all of the people around so what is it?
10 responses


• India
1 Apr 09
oh! thanks for your response sir and i think your kids got a very good father in thier life.I believe i may tell the same words if i get married and have children sir.But i'm not married yet and i will in coming 2-3 years once i got well settled.Take care and keep smiling and happy mylotting sir.

• India
1 Apr 09
I'm not a mom dear i'm a boy and not a girl even dear.Anyways thanks for giving your kind response and i really liked that.I mean getting my kids once i got with all my heart and that gives you very pleasure isn't it?Any ways happy living with your kids and keep mylotting dear sir.


• Australia
2 Apr 09
I know it sounds cliché but the very best thing I have ever done in my life is have my beautiful little daughter. She took a long time to come to me and arrived when I had lost all hope. I am so thankful for her every single day. I remember the day she was born so clearly. I recall thinking," If I achieve nothing else in my life, this is enough". I have done other things since but I still feel that way.


• India
2 Apr 09
Oh Okay dear thats very nice of you and don't worry god gave very best and good daughter in your life to make lighten up.So just make her happy and yourselves too and pray to god for helping out and everything will go ahead best in your life dear.keep smiling and happy mylotting.

• India
3 Apr 09
You welcome dear and what is your cute daughter's name dear paula? And old she is? Is she going to school and still enjoying with her mom in the home hahha? Anyways god gave you your happiness back and make you feel happy every moment you see your daughter isn't it? Keep smiling and take care our child dear.


• Philippines
1 Apr 09
i don't know if there is any thing in my life i could label as the best . cause i think that my life has always been a mediocre. i have not experienced any thing that is really memorable in my life. i wish that i could experience something that i could remember for the rest of my life. something that money or career is not involved. something that will give me personal satisfaction for having it. i don't know really for now what exactly it will give that kind of feeling or satisfaction. i have seen so many people who could tell many things about their lives that brought them so much satisfaction.

• India
1 Apr 09
Don't feel dear you will definitely will have many things in your life ahead okay.Just i have a suggestion here."Just Don't DO different things but DO things differently" okay so that you can have many things and rememberings in your life and you will have appraisals from your friends and colleagues and they will be sweet memories ever okay!take care dear and keep smiling.

• Philippines
2 Apr 09
thanks for the kind and encouraging words. i do hope that i will have some good things around soon so that i will find joy and memorable experience that i can treasure deep in my heart forever.

• India
2 Apr 09
You are welcome dear always to my suggestions at anytime but i will give positively and i can't suggest anything negatively because being in different country and being no contact between us i can give my best suggestions whenever you ask even personally dear.So just try to do just one month and you will see miracles in your life and i am sure about that.Keep smiling.


• India
3 Apr 09
Wow that's amazing dear and you are the luckiest one as many can't get their loved ones unless they struggled more in their family and in their lover's family and anyways you got your loved one and i have to get married dear.First i have to be in a settled job and in a good position and i think nobody will defend me if i ask her parents to give her daughter to me life long.


• India
2 Apr 09
Oh thats kool riti as i am surprised too because i didn't see a person like me still and i am very amazed to hear the same answer from you dear.Anyways keep smiling and have a happy mylotting and since how many months you are into mylot dear?

• India
2 Apr 09
The best thing done in my life is when i bought for myself a playstation 2 from my own salary when i was earning as it the first thlng i bought from my own earnings.

• India
2 Apr 09
Oh kool and thats awesome and you will never forget that right and you can tell to everyone about that dear.I too will purchase a very good thing to get remembered that it should be my first earning's result and i can tell everyone about that too dear and i think it should makes us feel confident right!i can feel from now it self dear and keep smiling and happy mylotting.

• United States
1 Apr 09
the best thing i have ever done in my life was actually for other people. i volunteered to work in a soup kitchen on the weekends when i was in college. i still do it this day. especially in this global recession, it is really good to help out people get a meal when you yourself are eating three meals a day and they can hardly get any. it affects me a lot and the people are so grateful to see a young person giving back to the community.

• India
2 Apr 09
Oh my God! You are really awesome and your parents are really good making you like this dear and i heartfully appreciate that for your work over several people and making them feel happy and also you will very good self satisfaction and also good confidence by doing.God bless you dear and i too appreciate for your kind heart again dear and keep smiling and happy mylotting.


• India
1 Apr 09
Great dear sarah tht you have passed all of your exams studying very haaaard.I think you are very happy for tat right.So what you think the next best thing you have faced or done on your life sarah?Just asking to make you think of your past memories so that you can remember all of your previous friends or colleagues etc.does that makes any sense dear?keep smiling.

• China
1 Apr 09
it is easy to answer you question,i think it is the best things to go to university to study further.which make me mroe knowledgeable and cultivation.what's more.i am a good kid,so i often be praised around me.haha.in the all,there are the best things in the colleague,falling love with sb

• India
1 Apr 09
Its good to hear that your best thing relates to your higher education and i appreciate that dear.So don't worry study hard and you will definitely will do your master's or post graduation,what ever you think with good scholarship and did you fall in love?not yet? or do you? you mention that "falling love with sb? what is that sb? can i know dear if you don't mind?

• Romania
1 Apr 09
The best thing to do in your life is to know what you want and not to stop until you succeed what ever is that you want.The secret is to stay positive and not to think bad things.Positive thinking will always make the difference.

• India
1 Apr 09
Good dear dany for informing us about positive thinking and evry one should be so that there will be no more misunderstandings by thinking negatively right!Doing things riht and thinking positive is not so easy but if we made it a habbit and i think soon one can achieve it without any doubt.Does my comment any sense dany?Let me know.