What Is Your Earring Style,Do You Prefer Hoops Or Studs?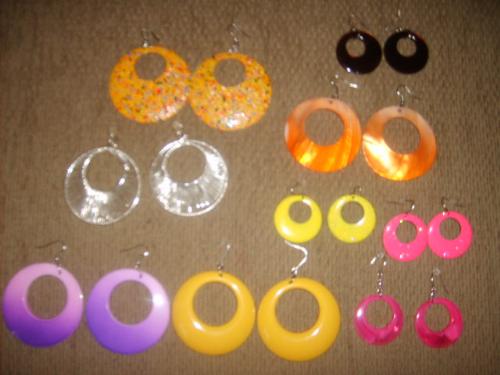 United States
8 responses


• United States
1 Apr 09
I have a pretty odd style that I developed in high school (back in the 70s) and which has stuck to this day...my earrings never match. I have two holes in each ear and sometimes I fill all of them with earrings...sometimes I don't which usually results in someone who doesn't know about this particular quirk of mine informing me that I'm missing one.

I like both studs and hoops but my favorites have feathers and many I have made myself. I also like antique looking silver or gunmetal dangly earrings that are very ornate. I rarely wear studs in the lower holes but once in awhle I do.

• United States
2 Apr 09
Like you, I prefer to wear hoops. But only the little ones that are light and easy on my ears. As much as I like earrings I don't want them weighing me down or snagging something they shouldn't.


• United States
2 Apr 09
i prefer big hoops. but it's so hard to find ones with good clasps anymore though. a lot have a post instead of a locking clasp.

• Australia
2 Apr 09
I love earrings! A girl can ever have too many, I think! I like hoops but they are not my favourites, I have a pair of square hoops actually. I like studs but the one I like the best are long dangling ones; I have long hair so I feel that that style really suits.


• Philippines
2 Apr 09
i sport an oval shaped face and using earrings other than stud won't look at all good to me.

• United States
2 Apr 09
I actually wear both, but i am have been wearing my studs lately. They seem to be more comfortable & easier to sleep with the studs in.

• South Korea
2 Apr 09
most of my earrings are hoop..but sometimes stud are nice