What Kind Of Dog Do You Have, And What Would You Like?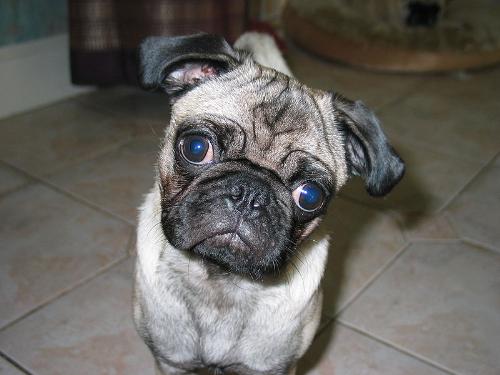 United States
April 2, 2009 12:41pm CST
I have a 2 year old full breed Pug. and his name is gizmo. This is not a picture of him, my dog is much fatter and has an even flatter face. What kind of dog do you own, and if you could choose what kind would you have. I love pugs, my dog is my buddy.
6 responses
• United States
4 Apr 09
I have a short haired dachshound. he is almost 16 tears old and has been the joy of my life. He is so smart and funny. He always seems to know when I'm not feeling well and seems to want to make it better just by getting close to me. He is starting to have some health issues and I know he can't stay with me much longer. I truly can't imagine my life without him!

• United States
2 Apr 09
I have 2 Miniature Schnauzers, Boomer & Scotty. I love them both dearly but Boomer is more my baby. Scotty is both my husband baby & my baby. But Scotty loves me the best & Boomer loves only me & no one else, LMAO!!! Boomer cries if I have to go out of his sight. And Boomer will not go outside & potty with no one but me. Scotty will let my husband take him outside but not Boomer he waits on me to take him, LMAO!!! And when I take a shower he comes & sits by the shower & wait on me to finish & sometimes he will stick his head in the shower like he is saying hurry up & get out & spend time with me, LOL!!! The Schnauzers are the greatest dogs to me in the world.

• United States
2 Apr 09
There is people out there that say they don't understand how some people can be so crazy about their dogs....but Scotty and Boomer both does not act like normal dogs. Scotty & Boomer act just like children. They both cry, you can tell when they are upset or mad. They get their feelings hurt just like people & look so sad when I have to scold them for being naughty. Boomer acts so silly & goofy almost like Scooby-Doo, LMAO!!! And Scotty you can read his facial expressions. Scotty & Boomer both is so very jealous it is almost like a child. And Scotty will come & act like a child & look up at me and raise his front paws to pick him up just like small kids do & I think it is so very cute.


• United States
2 Apr 09
Yes my husband had a German Shepard as a boy & her name was Lady. He said she was the smartest dog ever until we got Scotty. My husband said he thought he could never love another dog the way he loved Lady and then we got our Scotty. Scotty & Boomer both are so very smart.

• United States
3 Apr 09
I have English Mastiffs. They are big. I have one fawn boy and one reverse brindle girl. They are lovely. I want a smaller dog eventually for our daughter. She is 17 months. Granted our dogs are frindly and gentle but they are so big compared to her.

• Canada
2 Apr 09
I have 4 dogs. One is a shepherd/husky cross, the other is a red/blue heeler. And my last to are purebred papillons. The papillons are my favorite though. They are the light of my life. The other two dogs belong to my husband and daughter. I love them all but the little ones are my favorite and I would not give them up for the world.

• United States
2 Apr 09
We have a yorkie mix, which is a small dog, and a Florida Ker dog, which is a local breed of hunting dog. We don't use her for hunting...we don't hunt. She's supposed to be the "shop dog" at my husband's motorcycle shop but, since she's only six months old and isn't used to the noise of the bikes yet, she spends more time at home than at the shop.