I love betty la fea!

Philippines
April 5, 2009 12:31am CST
I love betty la fea is about to end! Do you think Betty will be beautiful by then?
6 responses


• Philippines
29 Apr 09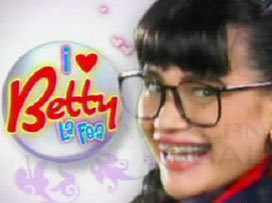 I'm not sure but I think it won't end like that. I think they will make her stay the way she is. I guess it's because people have learned to love her even on her present predicament. I guess she'll stay the same until the end.

• Philippines
9 Apr 09
Hi emojboy, [em]happy[/b] good day to you my co-mylotter. Yes, your right one of the movie show of ABS-CBN which is the "I love betty la fea", it's about to end. Well, this movie show is really good because it is really hard but impossible sometimes that a Handsome man and richman will be fall in love with a ugly woman but with a beautiful heart in the inside. I think this thing is really happen in some Fairy tales where the situation and difference of the character is heaven and earth. But still they fall in love with each other, the story of the movie can be compared with this situation. As i know many Filipino really love this show of ABS-CBN because even though it's about to end, atleast the people are satisfied with the ending, i am sure many people will go and watch the beautiful ending of this movie show. You know what? There is one good effect and lesson when watching this kind of movie. First is you really feel relax when watching this kind of movie show and the next is it really give a good inspiration to all those people who are lossing hope with their love life. Just a sort of advice, don't lose hope because the time will also came in order for you to meet the right person you really be with. Even this show entitled "i love betty la fea", is about to end. I think in the next other day, there will be another show again that we will surely like and i think it will be more a great story, together with those great actor and actress who will perform the role of a character. By the way, the reason why, the movie show of i love betty la fea became more beautiful it's because of the leading characters in the movie, that enhance the script to be more alived. Well, that's all my response regarding with this forum topic discussion entitled "i love betty la fea". Thank you and God bless! Happy posting to us and happy earning here in this site mylot.


• Philippines
6 Apr 09
I think.....may be she would still in her original outlook. physical outlook is no need anymore because she got Armando already. after the problem they encounter right now if it will be solve, Betty would nothing to ask anymore. the ending is still happily ever after.