Fence sitters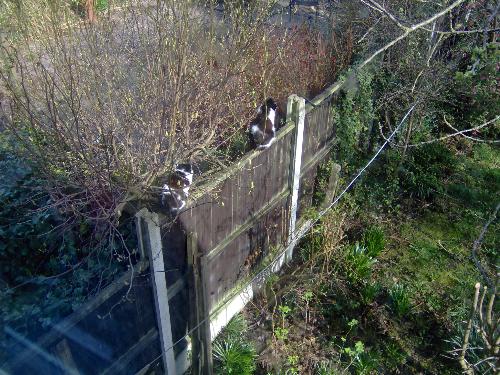 7 responses

• Philippines
14 Apr 09
Oh so lovely, i love cats. They are so sweet and naughty creature. I have 11 of them at our house and they are so loyal but sometimes annoying. Thanks for sharing this to us.

•
14 Apr 09
Thanks for your photo comment. Poppy, the little one, is at the vets at the moment. She has a gum infection which I hope they can deal with all right.

• Philippines
15 Apr 09
I pray for Poppy's fast recovery.

• United States
6 Apr 09
Those cats are beautiful and look very big. I would love to have a black and white cat. We are waiting on one for my sister. That was sweet to look at thanks.

•
6 Apr 09
I have three black and white and a tabby and white. Felix is a male and about twice the size of Poppy who is quite a small cat. That does not stop her from beating him up from time to time. (he's a big softie)

• Canada
5 Apr 09
I use to have big tabby brown cat it's so funny you said that about the cat's on fence what he did he brought in a big white cat in the house which surprise me they had a drink of water and then went back out again I thought I was seeing thing's till. I look out the window there they sat the two of them on fence what a picture.He was friendly with all the animals.I even seen him walking along with a skunk which I am glad he did not bring into the house... cd

•
6 Apr 09
Thanks for your response.

I hope that he did not smell of skunk afterwards.

• United States
12 Apr 09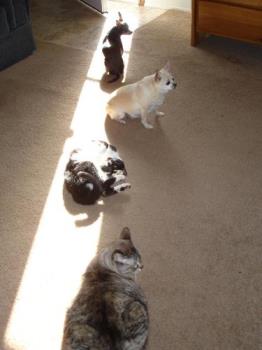 What a terrific sense of balance. I have two cats and two chihuahuas (who think they're cats...), but I don't think they have the same sense of balance. In the picture I've sent, two of them have already fallen off the sun beam...lol.


•
5 Apr 09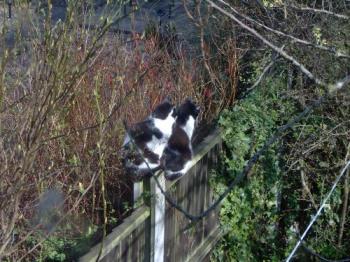 I snapped this one a few minutes later when I saw that they had moved closer together. I think that this is a better one than the first one.


• Canada
30 Sep 09
I love cats. We live right in the middle of town so our cat doesn't go outside, and even if he did, we don't have a fence for him to sit on. It has always amazed me how cats can fit onto the tiniest, skinniest of spaces. They are truly amazing animals, and your cats are no exception. :)

• Canada
30 Sep 09
I love cats. We live right in the middle of town so our cat doesn't go outside, and even if he did, we don't have a fence for him to sit on. It has always amazed me how cats can fit onto the tiniest, skinniest of spaces. They are truly amazing animals, and your cats are no exception. :)