Watching television...!!!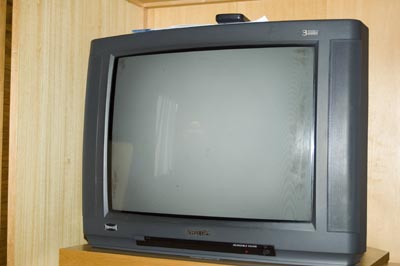 India
April 5, 2009 7:24am CST
Hi!!!!!!! Watching too much television is harmful for the eyes. But still I like watching television. I watch almost one and a half hours per day,after retuning from work.How many hours do you watch television??
6 responses

• United States
5 Apr 09
Well I probally watch more television then most people lol. Even though im on the internet while watch television so im not really looking at the screen. But my eye sight is pretty good for someone who watches more then 5 hours of tv. I dont have any problems. Off course if I had a regular computer I doubt I would be watching as much tv lol.

• Indonesia
5 Apr 09
I love to watch tv too, around 2-3 hours a day a spent in front of tv. I love watching movie,science. I wake up, i turn on the television, watch what news today, rather than read a newspaper. After i came from the work, i turn on again to watch some entertainment. So watch television make me relax.


• United States
5 Apr 09
I rarely watch television. I do have a few favorite shows but otherwise I prefer a good book. In fact, I just had all but the local stations turned off on cable. I only kept the minimum because I didn't want to pay for a digital converter box.

• India
5 Apr 09
i hardly watch television, whatever free time i have i spend it on computers, i think it is better way both that u earn also and u get entertained at the same time with the sites like mylotting. After a particular age all the serials etc seem to be boring and i dont feel interested in them, sometimes i happen to watch it accidently ...

....if my hubby is watching some news channel or something and there is some interesting news.

• India
5 Apr 09
I get hardly 30 mins. of Tv viewing that too only some news