I caught a photo of a helpful garden insect!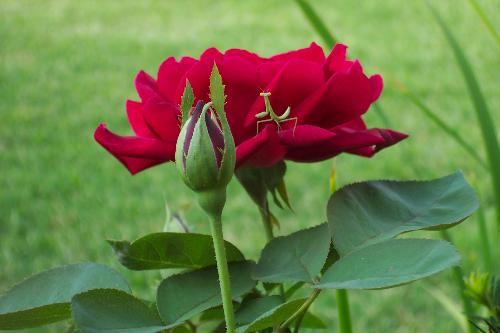 United States
April 5, 2009 9:17pm CST
I was at my parents house and had gone outside to admire their roses. There was a group of tiny little praying mantis' who apparently had just hatched out. They started to scurry away and I ran back inside to get my camera. There was still one left and I snapped his photo. It was really amazing to see this tiny creature. Praying mantis' are very helpful in the garden because they eat harmful bugs. If you see one, leave him where he is.
3 responses

• United States
6 Apr 09
That is the cutest littlest praying mantis I have ever seen I truly hope that when I get my garden going that I actually get some of them to come and live there. LOL!!!

• United States
6 Apr 09
What a neat picture! Great catch! We don't see many praying mantis' around here in Jersey, we have them, but not many. Someone told me it's actually illegal to kill one. Why anyone would squish one is beyond me, anyway, they're so cool. We do get a lot of the walking sticks around my house, though. I always jump a little when I see a twig start walking! LOL.

• United States
6 Apr 09
That is the tiniest, cutest preying mantis I have ever seen! I've always been a fan of unusual and beneficial bugs, even though I don't have a garden. I always got excited when I found a preying mantis when I was a kid, because you just don't see them that often. Of course, where I live now I never see them at all. I guess they just don't like desert climates.