Help Fix My Cat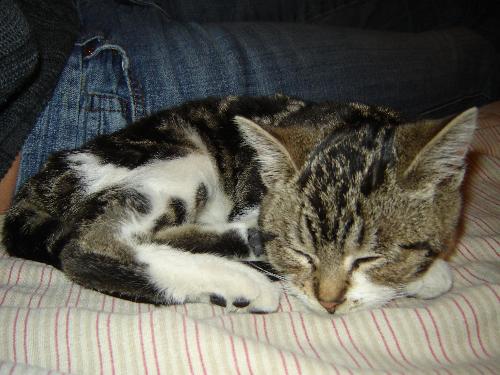 United States
April 6, 2009 4:36am CST
I really need help correcting my cats behavior. Well, for starters his name is Preston. He's 7 months old but he's kinda small for his age. His eyes are different colors with one being brown and the other green. I rescued him as a stray when he was skinny and starving and he is now healthy as an ox but like a kitty ox, yea know? My problem with Preston is that there is another cat living in the house. Now, they get along fine but the problem is in the litter box. Preston likes to play in the box and takes out the other cats poop and spreads it throughout the house. I really don't know what to do, so i'm asking for some help. Any ideas or advice as to how to stop this or why you think he's doing this would be greatly appreciated.
10 responses

• United States
6 Apr 09
Great of you to adopt him. I too have rescued strays and find they often don't realize what a litter box is intended for. You may want to put him in a separate room with his own clean litter box for a day or so. He'll get the idea. I'd also suggest getting a water bottle. Cats hate water sprayed on them, so its a good teaching tool. When you see him spreading the poo around the house spray him quickly and say NO! I've taught my cat to stop doing several naughty things with the spray bottle. Now all I have to do is pick it up and they dash off. But be sure you don't spray him while he is IN the litter box - or he may stop using it entirely.

• United States
7 Apr 09
Thanks for the great advice. I just purchased a spray bottle and I have to say it does the trick nicely. I think it will only take a few more sprays as he really doesn't like the water. I also set up his own litter box in a different part of the house and am teaching him to go in that one. Again, thanks soo much for the great advice!

• United States
7 Apr 09
Glad to be of help. :) At one time I had 8 cats, so I had to do something to teach them right from wrong. LOL

• United States
7 Apr 09
he might be angry another cat is using the same box. i had a "poop rearranger" too,he would throw the other cats litter out to make room for his,even when the box was just changed.i got him his own and he stopped doing it,except for the occasional shoving theirs into the corner of the box. cute kitty,BTW :)

• United States
7 Apr 09
Yeah, I think he's not very happy with the other cat as I have noticed the other cat doesn't cover up his mess all the way and kind of leaves it on top. The other cat is 17 years old and has trouble seeing correctly so I think i'll keep a different litter box for Preston somewhere else. Thanks for the kitty compliment too :)

• Canada
6 Apr 09
For some reason Preston has become fixated with the scat of the other cat. An idea that you might try is to squirt some hot sause (made with hot peppers) on the other cats scat before Preston begins to play with it. The hot pepper juice will discourage him from touching it. After a few days he will forget about playing with it.

• United States
7 Apr 09
Wow! I've never heard of this before but would have to say it sounds like it would work. I'm using a spray bottle at the moment and that has had some effect on him for the time being. I'll have to say that if he keeps it up then I will go for the pepper. I know for a fact he doesn't like spicy stuff as he once tried to eat my taco bell. Thanks for the great idea!


• United States
7 Apr 09
You really have a big heart adopting a kitty like Preston the fact that you already had a kitty at home. I would suggest that Preston should have his own litter box and put it away from the other litter box. You can start letting him use his own box everytime he wishes to and he will soon know that he has his own litter box. I think the reason why Preston did taking out the poop of the other cat is that he wants to use box without any other poop. Cats have the character of cleaning their own mess after doing so and that's one thing I love them most.(hehe). And for sure Preston will definitely loves you much!*wink*

• India
7 Apr 09
The kind of problems you have mentioned are common faced by many people. I would suggest you consult a trainer in the neighborhood area you can find easily or alternatively, great guides are available on the internet. You can buy an ebook on the subject and know all about cat behaviour and how to deal with them. With a little search you can find a good ebook on cats and solve the problem. Even if you donot want to spend some money, you can find good tutorials and vidios on the internet.

• Singapore
6 Apr 09
7th month should not be that playful ox. try to scold him? i used to scold them when they does that infront of me ,you must scold them when he did immediately,once is over he do not know why you scold him. although yes he can't understand our words ,but if you do something wrong people scold you with other language but you still understand people trying to scold you right? this is what i mean.try it if that's word to let me know too..

• Netherlands
6 Apr 09
An alternative is to have a "waterspray" and use it on Preston when he starts on the bad habbit. No cats like to be wet, and we teached our cat not to walk on the kitchen tables by doing that.

• United States
6 Apr 09
first problem: his name is Preston. That name just doesn't seem right to me for some reason. It's a name you have to grow into. It'd be hard for the kitten to grow into that name since he's a runt. maybe he's acting out as a way of protesting his fancy-smhancy name? Or...he's a living, breathing, and pooping Ouija board. He might be trying to spell out something important on your floors! I don't have any useful advise to stop this, but I bet the answer can be found by documenting the patterns he makes with the pooh.

• Australia
6 Apr 09
He's a lovely little kitty, good on you for rescuing him. It's best for each cat to have his own place to do his business. I would love another cat but there is no room in my house for another tray, sadly. I won't let my cat go outside because my neighbour has threatened to kill him. Being outside can be dangerous for cats, all sorts of things can happen to them. I hope you can get him his own tray. My cat would mostly like me to go with him when he used his tray. It is outside the door where my toilet is and so he would go when I did...lol. He is just now going by himself most of the time although he will still go when I do. Maybe if you keep an eye on him and say "no" in a firm voice and stop him from removing the other cat's business he will learn. It's also a good idea, I found, to keep the tray clean. I empty Banjo's mess as soon as he does something...or as soon as I can. I don't leave anything there for any length of time. I imagine if they are digging through poo to find somewhere to go it would not be very nice.