is he right or wrong?..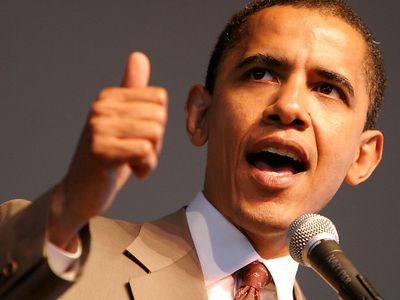 India
April 7, 2009 10:25pm CST
MR.Obama has been the center of attraction and his name hogging the headlines day in & day after...he has been an revelation ever since he took charge from MR.Bush..my questions is " is he right in every moves he makes".....his recent efforts at g-20 summit was to pump $1.1 trillion for economic boost.....he condemning the north korean rocket test....visiting iraq to discuss about backing of troops by 2011....whats yo opinion??...
3 responses

• United States
8 Apr 09
I have to say, I did not vote for him. I am glad he lifted the ban on stem cell research. I don't like that he is going back on his campaign promise of having no pork in any bill he signs. I do not feel that he knows what he is doing with the terrorist situation. I don't think you can invite the terrorist leaders for tea. You have to be strong. You cannot close down the US terrorist prison and release the prisoners in this country. Yet this is going on. I think alot of his fans will be in for a disappointment or shock as time goes on. It can be seen already that he is not changing everything that he promised. He is going to be a one term president.

• United States
8 Apr 09
You say one thing and honestly,truly believe that's the way it will be in your upcoming situation.It may be a job,new home,marriage,parenthood,friendship or whatever the case may be.Then when you get into that situation you find that it is different.There is a circumstance that prevents you from doing whatever you planned completely.For example,if you are a man,you may say that your wife will never have to work.Then when you get married.Then when you do get married you find out to accomodate the lifestyle that you want or where you need to live your income alone cannot do that alone.Therefore you broke your campaign promise when you were trying to find a wife.But,your wife or her family should not be mad at you for it because it was beyond your control.

• United States
12 Apr 09
I did not vote for him - in fact I even considered not voting for anyone for President. I have been willing to give him a chance but he seems to be saying - "Don't do as I do - do as I say." That is wrong and some of his actions are costing the American taxpayers dearly. I agree he seems to be a devoted husband and father but there are a lot of those and they are not trying to run the country. I am in the UK and last night we went into a local pub and I was asked what I thought of Obama. Contrary to what they put in the papers here - he is not very well liked in this country and most people here think that he will for whatever reason not serve out his full term. To that I say - "God help us with Joe Biden for President." That man is in my opinion a total waste of space. I hope that when the times comes to elect our next President there are some strong candidates to challenge Obama and he loses heavily.

• United States
8 Apr 09
I voted for a support President Obama.But he even said that not everyone will agree with him all the time.I don't agree with everything he has done or said.However overall he is a good person.According what that has been said by his family,friends and his appearance shows that he is a good husband,father,son-in-law and friend.His late grandmother said that he was a great grandson too.He appears to be a great president as well.