Are you currently working on anything?

United States
11 responses


• United States
6 Jul 09
Hi ozarkgirl...I just finished four things and I'm so proud of myself! I make three scarves for my sister, brother in law, niece and a headband for my niece. I'm going to attempt a small bag for my other niece and a poncho next. It was really nice to give a handmade gift and to have the recipient so happy to receive something made especially for them. I haven't yet gotten the hang of crochet, but maybe someday I will... Good luck with the bag for your mother in law!

• United States
18 Jun 09
right now I'm working on a baby blanket and thinking about making another but baby is due in 10 days so I am doubtful the other will be completed by then.

• Canada
18 Jun 09
Right now I am working on a "From the top down" cardigan for myself. I discovered this way of knitting just a few months ago even though I have been knitting for over 20 years. It is so easy and there are no seams to sew. That's a definite bonus for me. I love to knit, but I hate sewing in the sleeves. When you knit from the top down you don't have to worry about it as the sleeves are added on working in rounds. When I get tired of working on my sweater, I will usually pick up one of the toys that I am knitting or crocheting. I have lots of them on my blog, http://jedopi3bagswool.blogspot.com.

• United States
13 Apr 09
i'm currently working on a knit/crochet afgan (some of each craft is being used in this project, a crocheted top, and a knitted purse from some of the first wool i spun. it is pretty crappy yarn, so i am going to felt the heck out of it once it is done. shel

• United States
10 Apr 09
The one I have to finish first is a seed stitch flower granny square blanket for my mother-in-law. I have a blanket in the works for both of my girls and I have to make one yet for my friend from HighSchool who's expecting her first in june and someone else wants me to make them one besides that. Too bad I spend more time on the computer than I do crocheting *LOL*


• United States
10 Apr 09
I am still teaching myself to crochet, but right now I am working on a granny square afgan for my husband. He is a huge Oakland Raiders fan (only God knows why), so I am doing it in their team colors.

• Philippines
10 Apr 09
I love fashion accessories designing. I usually work on creating unique pieces for myself and for my friends during my free time. Many people have seen my creations so I also make customized jewelries for them. It's fun!

• United States
10 Apr 09
I am currently crocheting a baby pillow since my mom has a friend having a baby boy at the end of the month. My mom liked the colors i was using and said it matched her living room and now she has asked me to make her a blanket for the couch out there. No problem but it will take some time since I'm not totally devoted to crocheting all the time and i like to be on mylot most of the day. I have been thinking about maybe making some things for Christmas with Crocheting and maybe selling them at the family Christmas tree farm we do.

• United States
10 Apr 09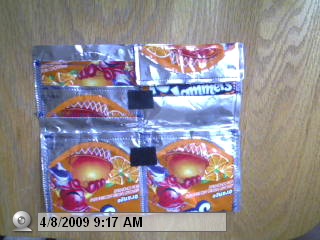 I am working on making wallets for sale at a craft fair. I am not all crazy about making more hand bags right now. so the easy way out would be the wallets.