weight of the earth

Greece
April 11, 2009 1:14am CST
do you think the weight of the earth is changing due to from plain land to cemented buildings,building metalic heavy equipments and more he3avy things on its surfuce and under the grounds?what maybe happens then if the weight of the earth will change?
8 responses

• India
11 Apr 09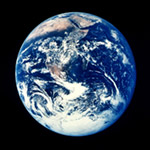 Mass can never be created or destroyed. Thats a basic principle in physics The weight of the world gets redistributed everytime something is moved or built or changed, but it is constant. However the weight will increase when - asteroids or cosmic dust enters the earth The weight will decrease everytime someone or something leaves the earth - satellites, space shuttles etc etc! This however is negligible

• India
11 Apr 09
Really use your mind that things are generated from earth so they are not going to effect its physical properties and also earth may never has weight in its physical properties because without gravity weight cant exist and only mass remains and mass is only the quantity of matter contained in the earh includin every thing like Stones,minerals,charge,clouds,air,water etc.. These things can change their properties such like water can go to sky through clouds and can go to mountains as rain or snow fall but all this resides in earth not in outside universe so mass of earth remains constant...!!!

• Somalia
13 Apr 09
I have a question for you christian. Where do you think we get those mountians of boulders that they use on concrete buildings? Or the steel that they use to reinforce these buildings, or the concrete itself? Do you think it was from outer space, not inherent to the earth that it could add any sort of weight change?

• United States
12 Apr 09
No, I don't think that the weight of the earth is changing. God created only so much matter. We humans only rearrange it.


• United States
11 Apr 09
Welcome to the Lot, Newbie! The elements that are used to make the things you mention were already here on earth, so they couldn't possibly add additional weight. Maybe if too much is concentrated on a single spot, there could be a problem, but that changes the weight in that area, not the planet!

• United States
11 Apr 09
The total weight of the earth can't change. However weight can be shifted around. As an example the New York City area or the LA Basin in California is a lot heavier in that area than it was in times past. A lot of weight has been hauled into those areas from other parts of the country. Huge lakes of water that is formed by dams also shifts weight from one area to another. Reducing weight in an area can happen also. Pumping oil out of an area and then shipping it all over the world will reduce the weight in that area. I don't think this is something we should be concerned about though. Art

• United States
11 Apr 09
In all reality, what was already their does not have a high chance of making a different earth weight. Why you may think in that way is because of density of substance from when they change from liquid to solid, it increase in weight. However to really flux the earth's gravitational pull. You would have to upset the magnetic field. Which I would not reccomend