Tonight we are just going to eat Pizza

United States
11 responses

• Philippines
12 Apr 09
That sounds delicious. I had tuna last night and some vegetables. It was good today, Easter Sunday in my country, we're gonna have some roasted chicken and grilled milk fish. Have a nice day. Happy posting!!

• United States
12 Apr 09
Sounds good! What is grilled milk fish? What country are you from?

• Philippines
12 Apr 09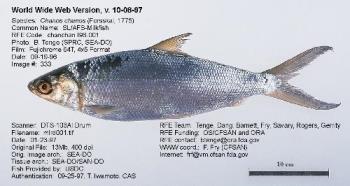 Oh, you don't know what a milk fish is? Hmmm.. I'm gonna have a hard time explaining and describing it to you.lol well I'll just attach an image of it, take a look. I'm from the Philippines that's why we celebrate Easter Sunday ahead of your country.

• Philippines
12 Apr 09
That's fine. As long as you're going to have something for dinner right?! LOL. Well, you'll be busy wit your Easter preparations so they would be able to uderstand it. Will be attending an Easter party tomorrow so we are saved from preapring our own feast. :)

• United States
12 Apr 09
Yes as long as our bellys are full thats all that matters.

• Canada
12 Apr 09
lots of time we keep it simple too. Personally I don't like the taste of frozen pizza but my son eats it.

• United States
12 Apr 09
I dont mind it. Easy,quick and not much clean up.

• Canada
12 Apr 09
Hi moneymommy...I dont mind frozen pizzas at all...I usually add more cheese and meat to them and maybe peppers and mushrooms...By the time Im done, nobody can tell its really a frozen pizza underneath! Usually for easter we have a nice ham dinner too. But this year we are in the process of moving so it will be simple..yup ,,,we are having spaghetti!!!..But its something we both love and theres only me and hubby left home so its ok. Or maybe I will just show up at your house for ham dinner


• United States
12 Apr 09
Sure come on over for some Ham dinner! We will have plenty to go around!

• United States
12 Apr 09
We had pizza too, we made our own though. It had onions, tomatoes, and yellow peppers, cheese it was really good. I told my husband we would be doing it that way from now on. My kids only like cheese on theirs, and you get two shells, so that was no big deal. It cost like 7 dollars to make it ourselves, compared to 30 or 40 to order and have it delivered. Tomorrow will be ham, my husband can not wait he gave up pork, and beef for Lent, sweet potatoes, mac salad my moms favorite, green beans, and a bunny cake. Have a great holiday.

• United States
11 Apr 09
Sounds like a good idea to me. I don't think you should make yourself tired by mnaking a huge dinner tonight.


• United States
12 Apr 09
Well because we have been busy since Thursday....literally we have been in and out of the house since thursday morning and we finally got to go grocery shopping this morning....we eneded up getting chinese carry out tonight. After breakfast tomorrow it will be back to eating at home again and cooking since we have food choices again and we dont have any plans after breakfast tomorrow morning... thankfully!! LOL

I am looking forward to just an afternoon at home with the family and not having to run around everywhere.

enjoy your pizza!!!

• United States
16 Apr 09
hello moneymommy that is what that my family and myself had last night for dinner was pizza. my hubby went up to the grocery store and got four of those pizzas that your local grocery store makes. when that he got home with them, i popped them in the oven, and they were delicious. and that is what that we had for Easter Sunday dinner was a spiral ham, with everything to go with it. we had squash casserole, corn, mashed potatoes, a relish tray, deviled eggs, sweet potatoes, green bean casserole, slaw, and three desserts. all of the food that we had on Easter Sunday was sooo good. take care and have a beautiful day today!

• United States
12 Apr 09
That sounds good to me. I love good old pizza anyday. Especially because it is so easy. Enjoy your Easter dinner, it sounds delicious.

• United States
12 Apr 09
That sounds like a good meal. There are nights that my husband and I have just pizza for dinner. I think it is a good meal. And most of the time I make the frozen kind but there are times that I will make a home made pizza and when I do that it definitely fits in the category of a full meal. I make the crust by scratch also. What I put on the pizza is all kinds of stuff. Ground Meat, hot dogs, bologna, sausage and a whole lot more. My husband can only eat one piece and that's all because it totally fills him up. What your making for Easter sounds delicious.