Is truth beautiful ?

Guwahati, India
April 14, 2009 12:03pm CST
"Truth is Beauty and Beauty is truth"- This line in Keats' 'Ode on a Grecian Urn' has put many a scholar puzzled and baffled as well. Pundits are forwarding their own stands but it still stands an unwrought Urn. The within inverted commas line in the poem is undoubtedly a paradox. But the declaration is by whom is the main issue. As a consequence we feel there an interruption of a third party. Is it that the third party here stands for God? Though punctuation in the poem has put all into a riddle we can not either nullify that this statement is not of the poet's himself. Let's be a bit elaborate here. In our mundane life we are not always ready to accept this concept or discourse. Sure enough, both beauty and truth share some affinity with each other. But in the larger sense, as we go on applying this idea in each and every aspect of our dealings, it appears self contradictory. With concrete examples- A girl/boy is extremely ugly to look at, and this is the true fact. Shall we call the girl/boy beautiful/handsome? Or is it a case of Beauty? Certainly common minds would not agree to this. Secondly, if a person is appareled in the costliest and prettiest of it and looks killing all around do we jump down to define that girl is a beautiful one. But later it was discovered that the person's look was artificial or all made up of. This is beauty but is it a Truth too? Now where does the point of coherence or affinity between Truth and Beauty align? The more we try to tune them up the more they distance from each other. Sure enough for all the souls who have already demarcated lines between Truth and Beauty.
9 responses

• Boise, Idaho
14 Apr 09
Truth is a beautiful thing. And beauty has truth in it as well. I don't think that pretty people are necessarily always beautiful. There has to be some defining element to go along with it. And nothing is absolutely ugly or beautiful. I think it is all in the way we percieve things. Looking at life and people postiviely and with the utmost care is very important.

• Guwahati, India
14 Apr 09
Hi celticeagle, so your take is aesthetic. It is all in the mindset that defines the beauty and truth is ever present and hence none needs to create it. Nice explanation. thanks for your response


• India
15 Apr 09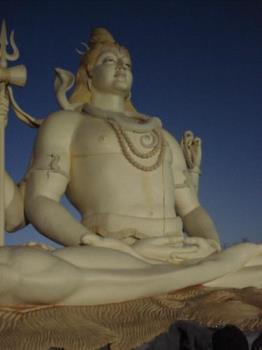 Hello my friend Rajib ji,
In my words it is 'Satyam-Shivam-Sunderam' Here is something from web: http://www.taralabalu.org/articles/world_peace.htm"SATYAM SHIVAM SUNDARAM (World Peace Message) God is one, but His names are many Reality is one, but its ways are many Spirituality is one, but religions are many Humanity is one, but human beings are many There cannot be one religion for the whole world Religions are like flowers of a beautiful garden Every flower has got its own individual beauty Adding to the total beauty of the garden!Enjoy the beauty of the flower of your choice! While enjoying the beauty of the garden! Let not your choice be thrust on others Nor be it a cause for coercion and conflict!Dr Shivamurthy Swamiji Sirigere"May god bless you and have a great time.


• Guwahati, India
16 Apr 09
Hello MGBU jee, you explained it few words and it was enough....Thanks a lot for the response.


• India
16 Apr 09
Hello my friend Rajib ji,
So nice of your positive and encouraging comments. May god bless You nad have a great time.


•
15 Apr 09
Truth is not beauty. The truth only exists due to the fact there are lies based around it. For example: If there were no lies, there'd be no truth, there'd only be that one defined state. Lies come from dishonesty.

• Guwahati, India
16 Apr 09
Well accepted, but about the relation between beauty and truth? Thanks for responding.

• Philippines
15 Apr 09
we sometimes keep the truth to protect something, someone and that includes ourselves... i know that the truth is beautiful... to an extent.. like the truth that you are oin love with someone or that someone is in love with you and all the beautiful truths.. but reality bites.. truth hurts more than it is loving....

• India
15 Apr 09
yah truth is beautiful. it is said that truth is naked, if beauty is truth then beauty is also naked. it means there is nothing to hide. more times we use artficial materials to hide our demerits and presents ourselves as a beautiful/handsome one. as my point of view this is not beauty. beauty means his/her actual reflection of everything which we can judge without any hasitation. an extremely ugly person may be a beautiful one if his/her inner side is totaly neat n clean. beauty does not represent external, always internal. as truth beauty should be an open book then we can say that truth is beauty.

• Anantapur, India
15 Apr 09
You are correct truth stands for ever so even 1000 years go way but truth stand so who stand on truth then they stand for ever in this earth so and you have given wonderful message for us.

• United States
15 Apr 09
Rajib- Dear friend, I've spent some time thinking about how to best reply having taught this poem to students for years. The best thing I can say, though I am not Keats, have not channeled him, nor known him, is to say that perhaps Keats was warning us in his traditional Romantic style that these two things should be kept separate. There was a movement called The Pre-Raphaelite movement in which poets, artists, and so on stated "art for art's sake", meaning to stop giving meaning to art but to appreciate it from an aesthetic point of view. I think Keats was getting at this very notion. We cannot judge art by anything save "Beauty". We cannot truly critique it using science, though many have tried. And most cannot find "beauty" in science though many have tried to put that spin on it. We've often in teaching called it an Art and Science, and so have many things yet perhaps Keats is right in remembering what is the science (Truth) and what is the art (Beauty). That is at least my humble attempt at trying to decipher what Keats may have been getting at, though knowing he was dying and would die young perhaps tainted all of his poetry. Namaste-Anora

• United States
15 Apr 09
Your example certainly made me think--the girl with makeup could have been the person you cited earlier as what is thought of as ugly. So Beauty cannot necessarily be Truth. Truth is not always Beauty, either, because sometimes it is very ugly. I will have to think about this for quite awhile and read Keats poem before I can resolve this for myself!